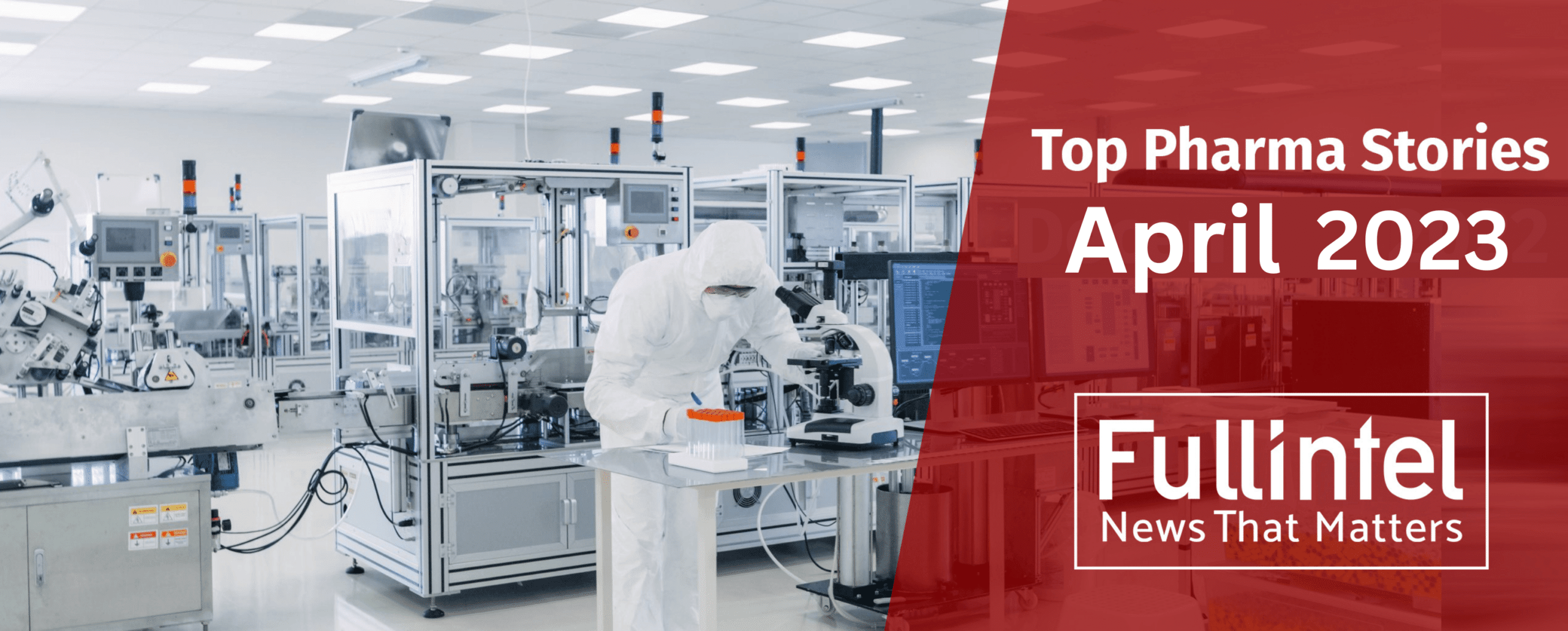 AI-Based Mental Health Detection Through Tweets Gains Media Attention
Artificial intelligence is revolutionizing the pharma industry by enhancing drug discovery, clinical trials, and patient care through personalized medicine and increased biomedical data. Pharma companies leverage AI to analyze vast data, develop innovative therapies, and accelerate drug development timelines. AI is also transforming the approach to R&D and patient care, providing potential breakthroughs for treating and curing some of the world's most challenging diseases. Our Fullintel Hub takes into account these significant advancements and delivers essential healthcare/pharma news while using metrics and social media analytics to highlight significant shifts in the industry.
Revolutionary Industry Advancements – An In-Depth Look at This Month's Developments:
AI Model Uses Tweets as Signals for Early Detection of Mental Disorders
Biden Raises Concerns Over AI Risks to Society Amid ChatGPT's Growth
Musk's Neuralink Seeks Human Trial Partner
April's Top Stories:

AI-Powered Mental Health Detection via Tweets Sparks Social Engagement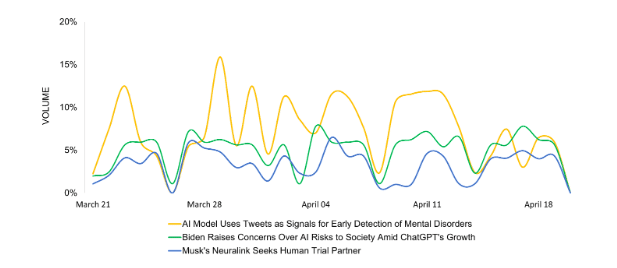 The media coverage this month focuses heavily on three subjects reflecting the public's interest in emerging technologies and healthcare, featuring an AI model that uses tweets to detect mental disorders, President Biden's warnings about the risks posed by AI to society, and Elon Musk's Neuralink seeking a clinical trials partner for its brain implant technology.
This month's most engaging stories revolved around AI, mental health, and neuroscience. One of the most popular stories featured researchers at the University of Sao Paulo who developed an AI-based predictive model for diagnosing anxiety and depression using Twitter data. This story generated significant media buzz in terms of both volume and social engagement. While ChatGPT's growth continues, President Joe Biden's voicing of worries regarding the potential risks of AI to society has sparked discussions, receiving a positive response from researchers and making it a popular topic of conversation. Despite the minimal media coverage, Elon Musk's Neuralink's search for a clinical partner to test its brain implant technology on humans has been trending online, sparking ethical debates about cognitive development and the unknown risks and potential benefits of medical treatments and therapies.
These topics accounted for 6% of the total pharmaceutical industry coverage, reflecting their importance and public interest.

A Break-Down of Recent Trending Stories:

AI Model Uses Tweets as Signals for Early Detection of Mental Disorders
Researchers from the University of Sao Paulo have developed a predictive model that utilizes Twitter data and artificial intelligence to diagnose anxiety and depression. The model scrutinizes tweet language to detect patterns indicative of anxiety or depression and employs AI to establish the predictive models. This novel approach captured the attention of many medical experts as early detection of mental health conditions using social media data and AI can potentially improve diagnosis and treatment outcomes. Additionally, this research sets the stage for more innovative and practical mental health diagnosis and treatment approaches, garnering a social engagement of 109.7K and driving a peak in coverage on March 29, 2023. The model faced criticism and ridicule from its audience, with 9% of the coverage being negative and eliciting 'angry' and 'laugh' reactions. The criticism was based on worries about possible bias in the training data that was employed to create the model, which could lead to unequal diagnoses and treatment of mental health issues across different groups.

Biden Raises Alarms About AI's Societal Risks Amid ChatGPT's Escalating Popularity
President Joe Biden voiced out the potential risks artificial intelligence poses to society, the economy, and national security amid buzz over ChatGPT at a President's Council of Advisors on Science and Technology meeting. While acknowledging that AI can assist in tackling challenging issues such as disease and climate change, he urged AI development firms to prioritize the safety of AI bots, tools, and platforms before deploying them. Recently, artificial intelligence has been thrust into the national and global conversation, particularly after the release of the popular ChatGPT AI chatbot. However, news of compromised payment data related to ChatGPT has fueled the debate surrounding AI and its potential risks. As a result, the tech ethics group Center for Artificial Intelligence and Digital Policy has urged the U.S. Federal Trade Commission to prevent OpenAI from issuing new commercial releases of GPT-4, while Italy becomes the first Western country to ban ChatGPT after its data protection watchdog concluded that there was "no legal basis" for its mass collection of data. President Biden's recent remarks have created a stir on social media, with various individuals, including researchers working on AI, expressing their support through "Wow" reactions. However, the debate around the risks associated with AI is complex and involves various stakeholders with diverse perspectives and interests. Some influencers have expressed disagreement with President Biden's comments, arguing that AI has the potential to benefit society significantly, resulting in 8% negative coverage.
Musk's Neuralink Seeks Human Trial Partner
Neuralink, a company founded by Elon Musk, has resurfaced in the news, this time seeking a clinical trials partner to conduct tests on its human brain implant technology. This innovative approach involves the implantation of small sensors in the brain to enable communication with computers and other devices. The technology has the potential to benefit individuals with disabilities and could facilitate the development of new interfaces for virtual and augmented reality. However, due to major safety concerns, the company faced a significant setback in early 2022 when the US FDA rejected its application to proceed with human trials. Since then, the company has been working to address the agency's concerns and has reportedly approached one of the largest U.S. neurosurgery centers as a potential clinical trials partner to carry out the human trials. Despite the FDA's rejection, Elon Musk's decision to continue pursuing clinical trials with a partner has sparked controversy among the public due to concerns about privacy, security, and the unknown risks and consequences of brain implants. As a result, 5% of the coverage emerged negative, garnering more angry reactions on social media. Conversely, if the technology proves safe and effective in human trials, it could open up new possibilities for medical treatments and therapies on a larger scale, potentially providing significant benefits for people with disabilities and other medical conditions. This possibility has elicited 'Wow' reactions from the audience, and although being ranked third by volume, the topic holds the second position by social engagement with 16.7K.