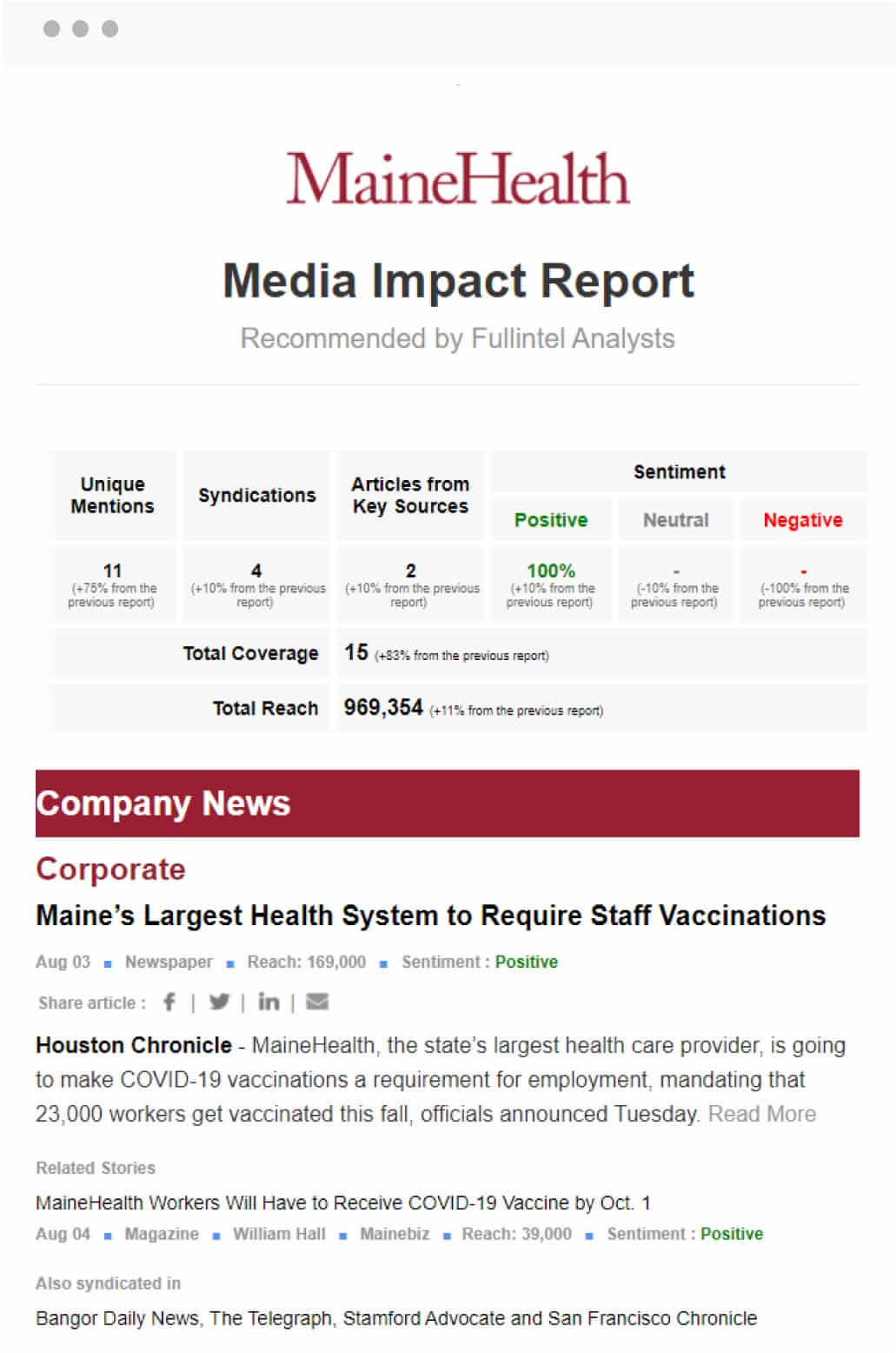 PR agencies provide a valuable service for large enterprises by helping them meet their communications and media engagement goals. But it's important to remember that they're just one part of the communications ecosystem.

A specialized media monitoring, news brief distribution, and media analysis partner empower agencies to do their best work through rock-solid, expertly-curated media data. 
As such a partner, Fullintel works with our clients and their agencies every day to more effectively track, analyze, and distribute what's being said in both traditional and social media, arming agencies with the real-time media intelligence required to meet and exceed their daily PR and communications goals. 
Here's just one example: We recently worked with a number of different agencies (one for each business unit) to save a major pharmaceutical company 50 percent of its annual media intelligence costs. 
By consolidating and standardizing the media monitoring, curation, and analysis process across the entire enterprise, we saved the client money while providing each agency with better data to guide comms strategy – a true win-win-win situation. You can read the case study here. 
Fullintel + PR agency = All-star team
Here are the top six ways Fullintel helps clients (and their agencies) perform timely, informed, and accurate media monitoring, news brief curation, and media analysis – in turn leading to better campaign and PR results.
1. Fullintel saves money. Media intelligence activities through a PR agency almost always costs more than through an expert media monitoring service like Fullintel.

We return valuable time to in-house and PR teams by fully managing media monitoring, news brief production, and quality assurance for less money: Typically up to 60 percent of your direct costs when PR agencies are used for these functions.

That's great news for our clients – who can suddenly afford to devote more budget to media campaigns and engagement – but also for their agencies, who can free up time and staff to focus on their core competencies. Everyone wins.

Here's a detailed breakdown of the estimated costs associated with media monitoring and morning news briefs services from a typical PR agency:
Third-party

SaaS monitoring tool

Starting at $10,000

Broadcast content subscription

$6,000

Print content subscription 

$6,000

Paywalled subscriptions

Average of $1,500

Automated translation*

$4,500

In-house news brief curation (@ ~3 hours/morning)**

$120,960*

News brief QA and edits (@ ~ 30 minutes/morning)***

$5,000**

Annual Total
$153,960
*Optional.
**For an agency/consultancy billing at $160/hour @ 252 working days/year. Many agencies bill as high as $225 for these services.
***For a PR manager earning $80,000 annually ($40/hour @ 252 working days/year)
Keep in mind these costs only include media monitoring and daily news briefs, not monthly, quarterly or annual media analysis reports, nor ad-hoc reporting.
2. Media monitoring, expertly curated news briefs, and media analysis are our core competencies. Media monitoring and analysis aren't listed as a service on most PR agency websites – and there are reasons for that.
While most agencies are experts at landing earned media placements, they're not media monitoring and analysis specialists.
They're not up to date on the most efficient media monitoring processes and tools, technical workarounds, media measurement best practices, or AMEC industry standards.
In most cases, PR agencies use media monitoring and analysis as a throw-in to safeguard or complement their core business.
Expert curation and media intelligence services like Fullintel eat, sleep, and breathe media monitoring and analysis. We spend 100 percent of our time staying current on and delivering the most efficient, industry-leading media monitoring and measurement approaches and techniques.

And as an added bonus, our deliverables are always graphic-rich and mobile friendly – never clunky Word documents.
3. We don't leave media monitoring tasks to less experienced employees. Because it's often a throw-in, PR firms often assign a junior employee to media monitoring and related tasks – partly because it's not their core competency, and also because the requirements (very early mornings and tight deadlines) can defocus their main teams, cause scheduling nightmares, and ultimately lead to staff attrition.

Fullintel assigns experienced, specialized media monitoring specialists with a background in your industry, and in a time zone that doesn't require extreme early mornings. Our specialized media monitoring service allows us to deliver actionable media intelligence at any time of day, ensuring you don't have to wait for your media briefs until late morning or afternoon.

Because your Fullintel analyst is dedicated to your account, they quickly become experts in your business, industry, preferences, and priorities.
We return valuable time to in-house and PR teams by fully managing media monitoring and measurement for less money: Typically up to 60 percent of your direct costs when PR agencies are used for these functions.
4. We don't just rely on technology. Because monitoring isn't an agency core competency, they can sometimes miss subscription-only or hard-to-find trade-specific content from small yet important outlets – or mistakenly include auto-harvested content that isn't quite relevant.

That's because most rely on a SaaS aggregation tool that uses automated harvesting scripts and pre-set Boolean search strings. While these tools are relatively inexpensive, they're known for deliverables littered with mistakes, including irrelevant or missed content from trade publications, paywalled sources, or sources that don't allow web crawling.

Fullintel's human-curated media monitoring and news briefs save time and money because we get it right the first time – eliminating time-consuming requests to add missed content or remove irrelevant results from news briefs or reports on a deadline.

That means no more picking through each deliverable for duplicate, missed, or irrelevant content, freeing up your team for more value-added tasks.
5. We look at every PR campaign objectively. Asking anyone to analyze the effectiveness of a PR campaign they've spearheaded can sometimes be perceived as a conflict of interest. In a worst-case scenario, it's a ticket to biased analysis meant to demonstrate the PR campaign's value (and not an objective look at coverage).

Fullintel's media measurement specialists don't run PR campaigns or media outreach, so you know you and your agency always receive a clear, objective look at your campaigns and media activities.
6. Fullintel analysts are industry certified. Because it's not the mandate of PR agencies to stay completely up to date on the latest measurement and monitoring best practices, they're not certified experts in the field.

Fullintel's team, on the other hand, is comprised of a large cross-section of media experts with experience in a broad range of industries, along with industry certifications such as the International Association for the Measurement and Evaluation of Communication (AMEC) Certificate in Measurement and Evaluation. 
A specialized media monitoring, news brief distribution, and media analysis partner with specially-trained expert curation teams is a vital part of the communications and PR ecosystem. It provides PR agencies (and their clients) with faster, more powerful, and more reliable media data delivered by media intelligence experts.  
Our global, 24/7/365 team delivers executive news briefs and alerts anytime of the day, provides more detailed media analysis (including competitive analysis) via AMEC-certified analysts, and saves companies money through more accurate media data and only-relevant content – while also highlighting the great work accomplished by your PR agency in getting earned media attention.
This, in turn, allows agencies to do what they do best – devise, execute, or adjust communications strategy based on real-time, clean media data.