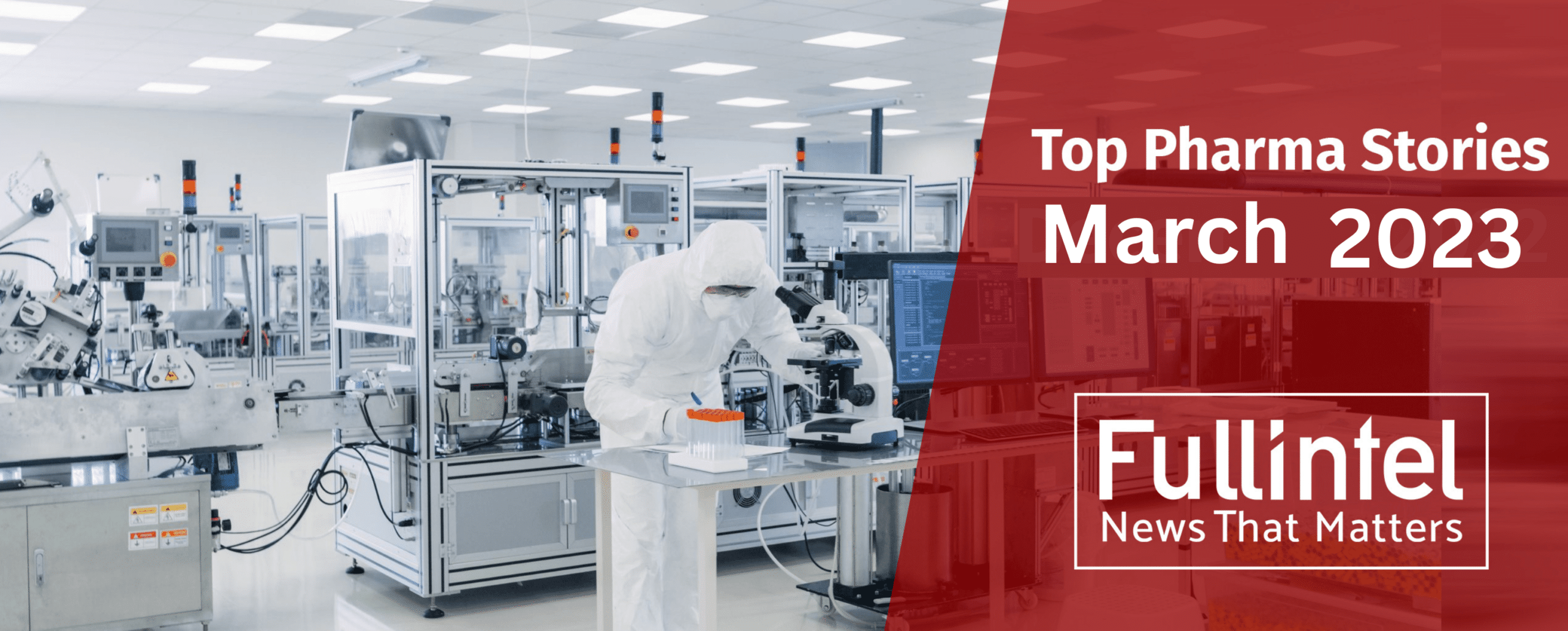 Joe Biden's Call to Lower Insulin Prices Sparks Media Interest
The pharmaceutical industry is undergoing a significant transformation, largely spurred by technological innovations, to meet the needs of a growing global population amid recent pandemics and natural disasters. In addition, governments and pharmaceutical companies are working to reduce the cost of life-saving drugs, making them more accessible, and helping to overcome clinical challenges while building a more resilient drug supply chain. Our Fullintel Hub provides the latest news in healthcare, analyzing recent trends and showcasing major changes in the pharmaceutical industry using a range of metrics and social media analytics.
This month, we explore some groundbreaking advancements and the latest progress in the industry, which encompass:
Joe Biden Urges Drugmakers to Slash Insulin Prices
FDA Rejects Elon Musk's Bid to test Neuralink Brain Chips in Humans
Artificial Intelligence To Help Detect Breast Cancer
March's Top Stories:

Joe Biden Urging Drugmakers to Slash Insulin Prices Grabs Media Exposure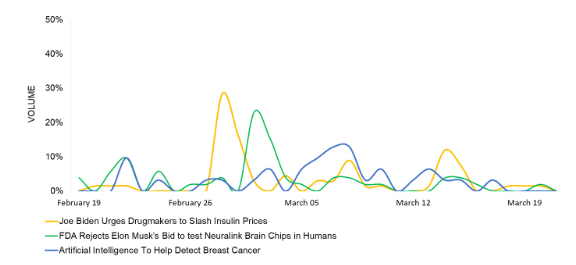 Coverage surrounding Biden's call for a monthly insulin price cap has received substantial media attention towards the end of February.
President Joe Biden's call to lower insulin prices has garnered significant media coverage and sparked extensive public discussion. This topic has been trending the most, with a majority of coverage being neutral and a mix of positive and negative responses from experts and lawmakers. The FDA's rejection of Elon Musk's proposal to test Neuralink Brain Chips in humans has also grabbed media attention, with a high level of engagement. This decision has sparked conversations about the ethical considerations of emerging technologies in healthcare and the importance of safety measures. With artificial intelligence becoming increasingly pivotal in healthcare as it assists the pharma industry in accelerating drug discovery and manufacturing, a new attempt to optimize and automate the diagnosis and screening of breast cancer using AI was well received in the media.
These topics contributed to about 6% of the overall coverage in the pharmaceutical industry.

A Break-Down of Recent Trending Stories:

Joe Biden Urges Drugmakers to Slash Insulin Prices
In response to Eli Lilly's decision to slash its prices for the popular diabetes treatment, President Joe Biden urges drugmakers to reduce their insulin prices. The announcement was well received, with many praising Biden for his Inflation Reduction Act, which limits insulin costs at $35 per month for Medicare enrollees, older adults, and individuals with specific illnesses and disabilities. The coverage peaked on February 28 and continued to trend through March, with a significant social engagement of 19K. While the majority of social media users responded with "love" reactions, the announcement also drew criticism from many as it fails to protect younger diabetes patients with private insurance or without insurance from high prices, resulting in an 8% negative coverage.
Overall, Biden's call to reduce insulin prices has sparked important discussions about the affordability and accessibility of life-saving drugs, particularly for those with chronic conditions like diabetes. While the Inflation Reduction Act is a significant step forward, more work needs to be done to ensure that all patients have access to affordable healthcare.
FDA Rejects Elon Musk's Bid to test Neuralink Brain Chips in Humans
The FDA recently denied Elon Musk's request to start human trials for his revolutionary Neuralink wireless brain chip, which claims to treat intractable conditions such as paralysis and blindness due to significant safety concerns, including the device's lithium battery, the risk of the implant's tiny wires migrating to other brain areas, and the uncertainty of removing the device without causing harm to brain tissues. The decision sparked mixed reactions worldwide, garnering a total engagement of 79.1K. It quickly became the most discussed topic in March, receiving the highest trending score of 5 on March 3. Despite the potential benefits of Neuralink's brain-computer interface for the 5.4 million people living with paralysis in the US, the technology has been met with caution and tempered expectations from experts in various fields, warning that this technology is much more complex than Musk implies. The FDA's decision generated 19% negative coverage, with some people expressing disappointment that the trials won't proceed, while others applaud the FDA's caution in ensuring safety. Overall, the FDA's decision highlights the importance of safety and ethical considerations in the development of new medical technologies and draws "Wow" and "Love" from social media users.

Artificial Intelligence for Improved Breast Cancer Detection
A study published last year compared the ability of an AI program to identify breast cancer with that of a human radiologist in 250,000 scans and found that the technology was as efficient and even faster and more accurate in reading scans. Over half of the coverage surrounding this topic was positive, with experts affirming that the automated system can provide a second opinion quickly and accurately. This contributed to a high trending score of 5 on March 7 and 8 and garnered more "love" reactions from the audience. However, 3% of the coverage turned out to be negative, as some experts disagreed with the research output and raised concerns over the potential risks of AI in healthcare, such as privacy violations, incorrect diagnoses, and unfair targeting of low-income individuals. This resulted in some "Angry" reactions.