The world's leading enterprises trust Fullintel
Access Social Networks Unavailable On Automated
SaaS Tools
Get past API restricted channels such as Facebook, Instagram, and TikTok with our AMEC-certified media analysts monitoring your social media channels. With deep knowledge of your organization, industry, and competitors; our analysts will deliver the full social media landscape for your brand.

Contact Us Today To Learn More
Optimize Costs &
Improve Efficiency
Save over 30% on social media monitoring costs compared to in-house or agency and benefit. Our Social Media Impact Reports are executive-ready and mobile friendly, completely customized to your needs including metrics, audience demographics, and media reach.

Claim Your Social Media Impact Report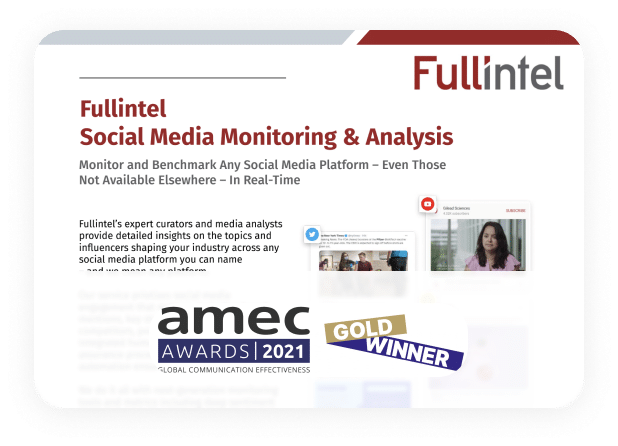 Download: How Fullintel Advances Social Media Monitoring & Analysis
Learn how Fullintel combines AMEC-certified media analysts with PredictiveAI™ to bring you social media that matters

Download