Staying on top of all your relevant media monitoring results isn't exactly easy for most organizations, especially in the age of social media and 24-7 online news.
But it's even more difficult for communications teams at large organizations and Fortune 500 companies – and that goes double (maybe even triple) for publicly traded firms, or companies with trendy yet easily confusable names like Apple, Box, Amazon or Alphabet.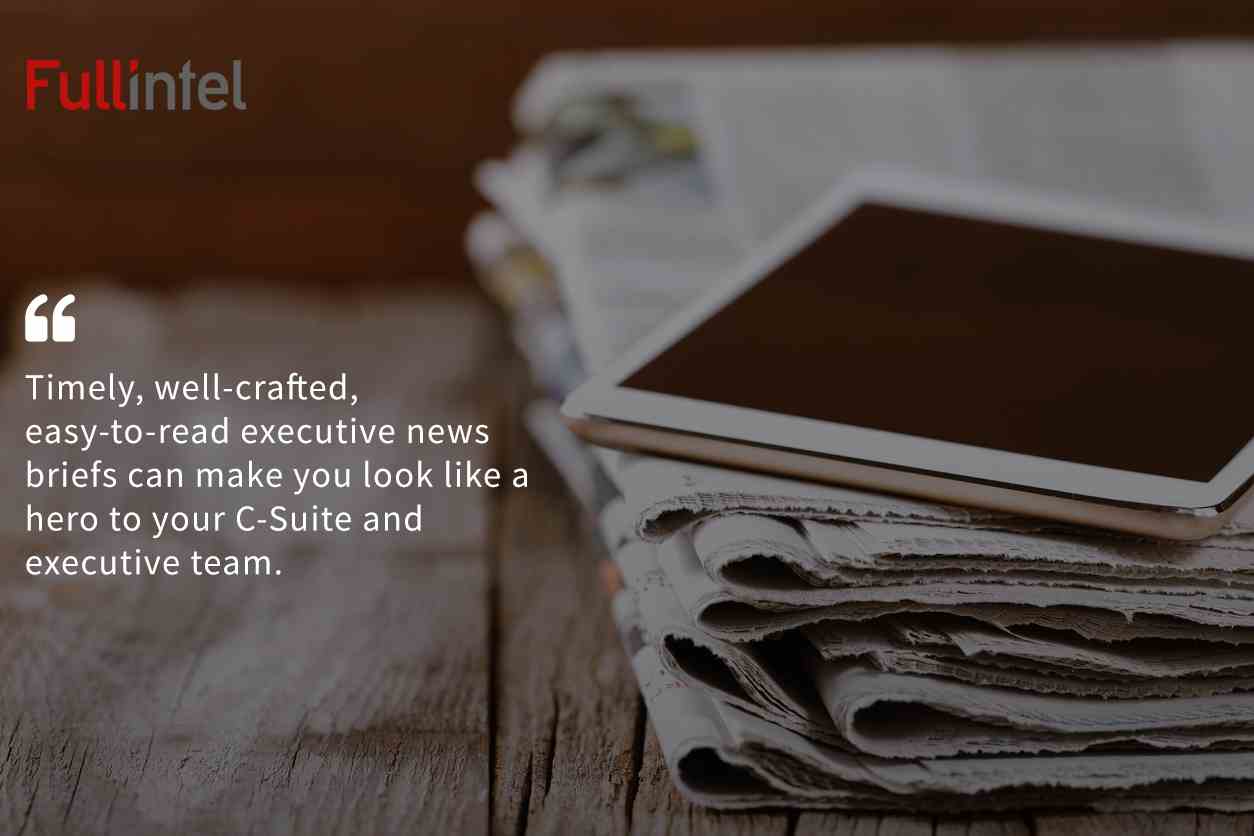 That's largely thanks to a perfect storm of factors, each working in tandem to ensure daily media monitoring for a large organization always has certain challenges, including:
Heavy volumes:

Large organizations typically get far more media and online mentions than do SMEs, with some organizations receiving thousands of global mentions per day

Irrelevant results:

Because many mentions are in passing or are not relevant, automated media monitoring without human curation typically produces inaccurate results

An impatient C-suite:

Executives and C-suite members at large organizations expect up-to-the-minute media monitoring results, but are almost always short on time
So what's the best way for communications teams at large organizations to convey media monitoring results to the C-suite and executives?
The value of human-curated daily news briefs
Everyone who has ever been on a communications and PR team likely knows this feeling: your media monitoring provider or SaaS solution has missed an important story – maybe even a story that's close to the leadership's heart – and you're bearing the brunt of your CEO's wrath. It's a difficult position to be placed in, but it's also one that's unfortunately far too common in the media monitoring world.
Human-curated daily executive news briefs, however, make PR and communications teams look good – and, by extension, make executives happier. That's because:
They summarize articles in an easy-to-scan format

They're curated by media experts deeply intimate with the nuances and details of your media monitoring program, weeding out irrelevant mentions and highlighting coverage that really matters

They feature important articles hand-picked for relevancy, and delivered to stakeholder inboxes the moment a client needs them – whether it's 4 p.m. or 4 a.m.

They're customized for your organization's brand standards, and feature rich graphics and formatting to increase shareability

They link articles with trending social media data, so executives can quickly pick out which campaigns or PR efforts produced the most value
The key to stakeholder engagement: Buffet-style customization
Large organizations who partner with a strong media monitoring provider can take these benefits even further, however. That's because good executive media briefs should always have the flexibility to be completely customizable to whichever stakeholder it is sent.
A strong executive media brief, for example, should feature buffet-style content customization based on various categories such as company news, news on the company's various brands, competitor news, trending industry issues and topics, and more. That way, when your CEO or CFO only wants to receive briefs mentioning company news, competitors, and industry news – but nothing else – it's super easy for her to turn those taps on and off as needed simply by selecting or deselecting various topics right in the brief.
Creating effective executive news briefs
Fullintel offers three main types of executive news briefs, each one delivered daily at the time and frequency of your choosing:
The Daily Digest.

As its name implies, the Daily Digest is delivered every day and provides an executive overview of your organization's most important news coverage as determined by your needs and goals, delivering brief article summaries, trending information, and other important details at a glance.

The Media Coverage Report.

Whereas Daily Digests are quick summaries, this is a more in-depth overview of an organization's daily media mentions. It includes features and metadata such as article reach, the article's original image, potential reach including all syndication, and any related stories that may have been published.

The Media Impact Report.

This is a comprehensive overview of your daily media coverage that also includes in-depth data and metrics, such as human-scored article sentiment, influencer shares, estimated social media reach and more.
Whichever size of organization you and your communications team work for, your media monitoring program will always have challenges – that's just the nature of media monitoring and crisis monitoring. But these challenges grow exponentially when monitoring mentions of large organizations or public companies with gigantic public profiles, where the sheer number of mentions can overwhelm lesser teams and throw media monitoring programs into disarray. 
Timely, well-crafted, easy-to-read executive news briefs can make you look like a hero to your C-Suite and executive team.
See how Fullintel's human-driven media monitoring and curation can make your PR and communications team look like bigger superheroes than they already are. Request a free customized executive news brief today.