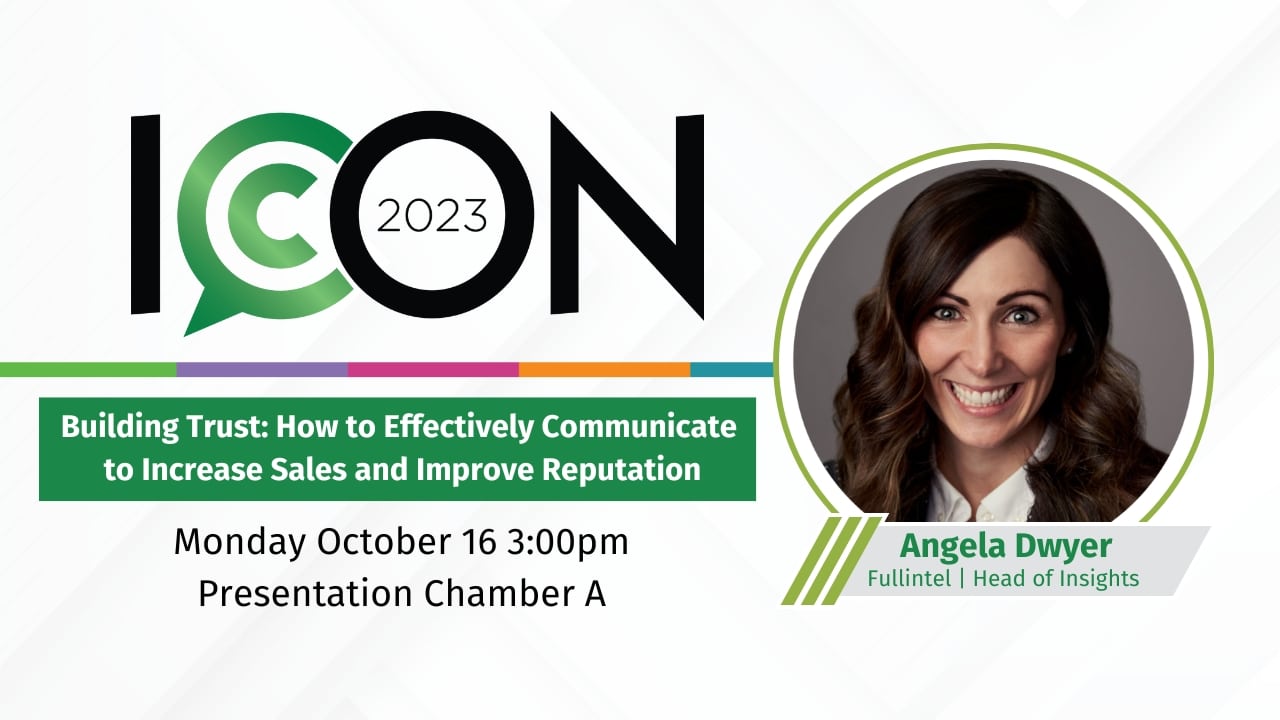 PRSA ICON – one of the world's most well-known PR and communications conferences – is approaching quickly, and we're a little bit extra excited for it this year.
That's because this year's event will include our Head of Insights, Angela Dwyer, presenting Fullintel's original research on trust along with details on how this research can be applied to everyday PR practice.
Angela has performed extensive research and built considerable expertise on the subject of brand trust over the past several years. She and her research partner, UConn Assistant Professor Ph.D. Tyler Page, received the Arthur W. Page Center Benchmarking Award at the International Public Relations Research Conference (IPRRC) for their mixed-method research paper on trustworthiness and its impact on public and media perception.
She recently shared further research, also conducted with Dr. Page, on trust factors for pharmaceutical companies. The research featured a nationally representative survey of more than 400 respondents using a three-factor model of trustworthiness to assess and predict the brand reputation of four major pharmaceutical brands.
The researchers tested three previously identified trust factors – ability, benevolence/purpose, and integrity – in relation to the pharma business to understand the impact on reputation and consumer intent. They found that the ability factor translates best to boosting sales while benevolence and integrity can each have the biggest impact on reputation.
Angela has now brought this cutting-edge academic research to real-world PR practice by developing a proprietary media metric based on this analysis: The Fullintel Trust Score.
The Trust Score shows how likely coverage is to build trust in a brand based on those trust factors mentioned earlier. Factors are weighted according to industry and primary goal, such as building sales or boosting reputation. The score is represented on a scale from 0 to 10 – the higher the number, the more likely the brand is to be trusted. 
We're looking forward to Angela sharing her insights from the trust studies and how she applies the findings with the wider PR and communications industry at PRSA Icon, which typically features more than 1,500 attendees and 100 speakers. This year's keynotes include the New York Times' David Epstein and the Washington Post's Michele Norris. 
PRSA's Vice-President of Meeting and Events, John Bomier, previously described PRSA Icon as "the premier annual gathering for communications professionals and students." He told Fullintel the event will be a combination of networking, professional development, and access to leading PR and communications vendors.
To register for the conference, please visit the PRSA ICON website. It takes place at Nashville's Gaylord Opryland Resort & Convention Center from Oct. 15 to 17. 
Fullintel will be at PRSA ICON and we're looking forward to seeing you there! If you're attending and would like to meet up at the conference, please contact your account manager.