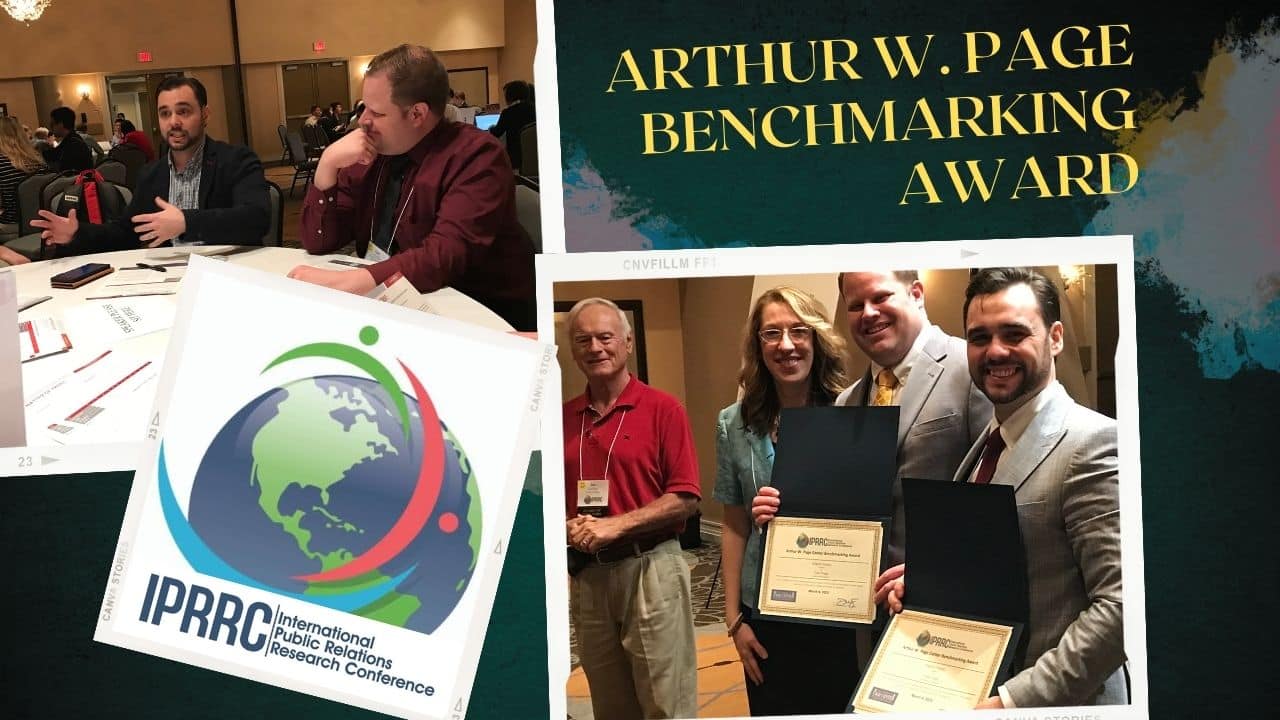 A Fullintel mixed-method research paper on trustworthiness and its impact on public and media perception has won the Arthur W. Page Center Benchmarking Award at the International Public Relations Research Conference (IPRRC).
The paper, entitled "A Matter of Trust: Understanding the Impact of Trust-Driving Attributes in Three Major American Companies in Media and Public Perceptions," was produced by Fullintel Head of Insights Angela Dwyer alongside UConn Assistant Professor Ph.D. Tyler Page.  
"The paper looks at what makes someone trust a brand when they read an article," Dwyer explains, "with the intent to create metrics that more effectively ladder up to our goals."
Such primary research feeds the further development of Fullintel's advanced media metrics around consumer trust, recall, and impact, and will help expand the breadth of the company's customizable Media Impact Score. 
"We can further customize Media Impact Scores by expanding some of these trust factors," says Dwyer, "and also define the factors a little more clearly based on research. That means we're going to expand our measurement around reputation and trust, a very important perception factor. And this will, in turn, help expand some of our measurement recommendations."
Key Findings from Fullintel's Trust Research
This research, and many of the papers presented at IPRRC, depicted clear steps forward in the practice of measurement and shines a light on new opportunities to tell stronger data stories.
Fullintel's and UConn's research found that the various factors of trustworthiness – including ability, benevolence, and integrity – had interrelated and differing effects on purchase intent (past and present) as well as reputation. While preliminary, the study found the following:
Drive Better Coverage:

Brands seeking to drive more favorable coverage should focus messaging toward ability, meaning the quality and effect of a product or service on consumers. Focusing on what your product does, and how it helps those that buy it, produces more and better quality coverage.

Drive Purchase Intent:

To incite sales brands should focus on their benevolence, which is defined in this case by how a brand impacts "people like me or people I care about." Benevolence is the only trust factor with an outsized impact on purchase intent. Trust has been found to have a direct impact on purchase behavior in previous studies, and this may be a strong indicator as to why.

Drive Positive Word of Mouth:

To generate more organic conversations among the media and public, companies should focus on messaging around both ability and integrity together. 
For a deeper look at these findings, please see our report summary here.
The Arthur W. Page Center Benchmarking Award is sponsored by the Arthur W. Page Center for Integrity in Public Communication at Pennsylvania State University. It recognizes a top-ranked research paper dealing with ethics, social responsibility, or leadership. 
The $1,000 award was presented to the researchers by Don W. Stacks and Sean Williams, CEO and CEO-Elect of IPRRC, as one of several prizes given out this year (including the inaugural Fullintel Media Insights and Impact Award). 
The 26th annual International Public Relations Research Conference (IPRRC) took place from March 2 to 4 in Orlando. It showcased leading communications research, often produced by academics in communications and media studies, while connecting that research with working PR practitioners.   
For PR practitioners who want to walk-the-talk, stay tuned for further deep dives and continuous industry research updates on the Fullintel blog.