Media monitoring and daily news brief distribution to stakeholders every morning is a lot of work. It often leads to wasted costs, employee churn, and significant distractions for PR teams looking to get mentions of their brand in the media. 
And that's on a good week. When communications, PR, and marketing teams are in crisis management mode, the time required for accurate and timely media monitoring can become a liability if it's performed in-house.
That's why we created this free guide to media monitoring and daily news brief creation. To ensure your team delivers the best possible ROI on your traditional and social media monitoring and analysis activities, be sure to follow this step-by-step guide.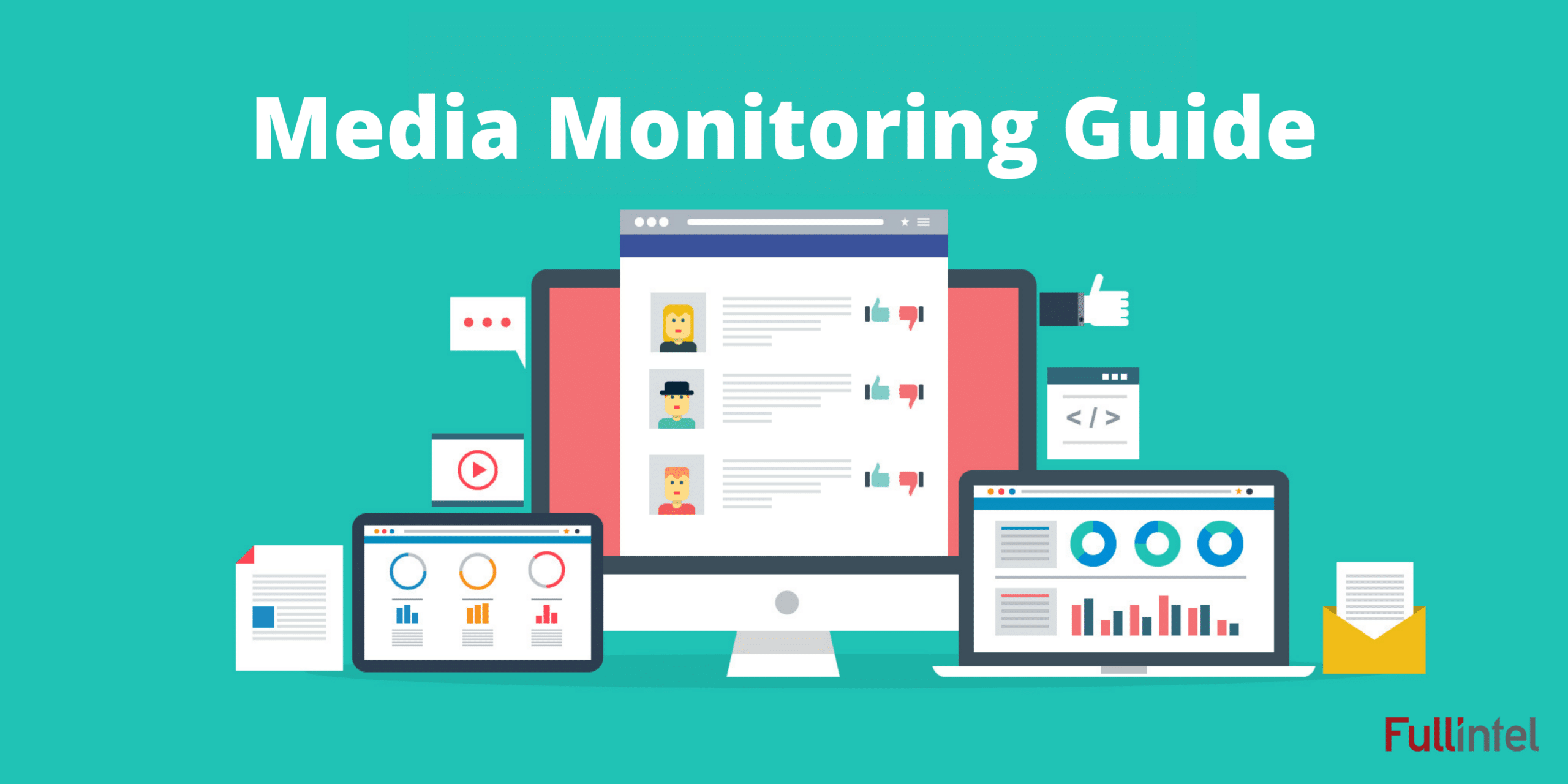 The right content
There's nothing more important for a successful media monitoring program than access to the right social, online, print, and broadcast media content aimed at the right target audience. Because without good content, what the heck are you monitoring?
Traditional media coverage
Determine which sources are most important to you – a tiered list can help – along with the most efficient and cost-effective way to monitor your brand within those sources. For legal access and to stay on top of copyright, you'll need agreements with license holders (make sure to purchase enough licenses so you're able to share content with stakeholders legally). 
Here are just a few of the content providers Fullintel partners with:  

Online news and social media content
Online news, blog, and social content is incredibly voluminous. Many organizations use aggregation software to track mentions and monitor for potential customers. But news aggregators don't include everything and often lose access to high-end titles without warning due to licensing issues. 
Indeed, SaaS social media aggregators typically only have access to a select number of social media channels. If you require content from any other social media sources, you'll need to monitor them manually.
Ensure your aggregator includes a large portion of your required content and continually assesses its source library. 
Paywalled, niche, and industry outlets
Aggregators don't include paywalled or niche industry sources, but you can augment your results each morning by manually using search engines and the search function on social media platforms. 
Keep in mind you'll need to sign up to each paywalled outlet individually and then log in and monitor them manually each morning.
International and multilingual content
Many media monitoring companies and aggregators only provide content from specific regions (usually their own) and in certain languages (again, usually their own). If you require multilingual content from international markets, make sure you have access.
Keyword development
Once you've squared away your content sources, you still need to lay the foundation of your new media monitoring program. And that's all about developing the right keywords, keyword modifiers, and Boolean search phrases. 
Research and determine what's important
Set initial parameters by defining which issues, campaigns, spokespeople, products, or other vital topics must be included. Thoroughly research keywords used by competitors, key opinion leaders, and influencers in your industry. 
Create a keyword list (and watch for typos)
Lay out an initial keyword list including all the critical entities and topics to be tracked (stakeholders, product names, spokespeople, and so on). Check your list carefully, as misspelled keywords can lead to disastrous monitoring results. 
Develop Boolean phrasing, inclusions, and exclusions
Keywords on their own will inevitably bring in many bad results without the inclusion of Boolean logic and modifiers. Modifiers for inclusions and exclusions include parentheses, OR, AND, NOT, and quotation marks for phrases. Generic words should always have modifiers. 
Here's an example of a search string using Boolean operators and quotes:

Include phonetic and common misspellings
When monitoring broadcast and social media, it's important to include phonetic alternatives to your keywords, just in case. Automated broadcast transcripts sometimes misspell words based on sound. And there's no guarantee social media users will spell anything correctly.
Decide what's irrelevant (and stay consistent)
Obvious irrelevant content – stuff that's nothing to do with you or your industry – is easy to spot. But it's just as essential to eliminate other types of noise, such as passing mentions, mentions in low-grade sources, or mentions in republished press releases with little to no news value. 
Whatever parameters you're most comfortable with, stay consistent when enforcing them or you'll soon run into issues around irrelevance.
Stay vigilant
The wrong keywords or search phrases – even a quotation out of place – can negatively impact your results. Similarly, life doesn't stand still: Brand names can change, and the right keywords often evolve.  
That's why it's vital to continually assess and refine (if necessary) keyword lists as time passes and requirements change.
Search for content
By now, you've established your content sources. You've developed, refined, and re-refined keywords and Boolean logic so your monitoring won't bring in an unmanageable amount of irrelevant results. 
Congratulations – it's time to put those keywords into action!
Decide who's doing the search
Media monitoring for a morning news brief is typically performed that morning (very early in the morning – often as early as 5 a.m. for an 8 a.m. deadline). As you can probably guess, that's not for everyone. This point alone can often cause significant staffing issues.
Set your media monitoring backups
There's nothing more stressful than having an 8 a.m. deadline and learning at 5 a.m. that your designated media monitoring employee is away sick. Always have a backup employee trained and available, just in case (same goes for when your employee goes on vacation).
Review as you search
Ensure your keywords and Boolean phrases are working effectively by closely reviewing results as you search, instead of simply bringing in content blindly. 
If you use a combination of automated and manual search, go through the automated results with a fine-toothed comb to remove irrelevant and duplicate hits.
You can save the last step for later – it doesn't have to be first thing in the morning – but make sure you don't forget, or you'll eventually end up with a polluted dataset.
For social, keep it real-time
Most social media data providers allow users to run historical searches, but it's always faster, easier, and usually far less expensive to monitor social media content in real-time. Typically, the further you need to go back in time, the more costly and time-consuming things get. 
That's why you must make sure your keywords are solid in advance, not after the fact.
Set reminders for keyword review
As mentioned earlier, keyword monitoring is constantly evolving. Set reminders for you and your team to review keywords to account for new spokespeople, executives, emerging topics, or other changes.
Produce your morning news brief
For most organizations, media monitoring is a means to an end – and in most cases, that end is the morning executive news brief. 
News briefs keep your stakeholders in the know, are built from news and social content monitored that day, and are shared early in the morning. 
Review and curate
It's a bad idea to include irrelevant content or to miss important content in a news brief to your CEO. Your team must manually review all content to be included each morning and then hand-pick the most relevant earned media and other results.
Tag and categorize
A news brief has the most value when organized into various categories: Campaign mentions, industry news, sentiment analysis (positive, neutral, or negative), and executive mentions are just a few examples. 
These categories can then be analyzed for share of voice, industry trends, brand awareness, and brand reputation to facilitate timely and accurate reputation management. You can include some light analysis within your news briefs themselves, or in a standalone media analysis report.
Either way, the content must be categorized accurately first (auto-categorization using keywords can help, but just like auto-monitoring, will cause big mistakes when terms are misclassified).
Include important metadata
To give readers a sense of the impact of each story, articles in your morning news briefs should include important metadata such as reach and syndication numbers. Social posts should consist of reach, likes, shares, and other data. 
Make it share-worthy
You can start by building your morning news brief in a plain template, but that's not a great use of resources, and likely won't drive much stakeholder engagement. Instead, distribute your briefings via a graphic-rich, mobile-friendly, easily shareable format.
Avoid common errors and pitfalls
It's easy to make mistakes when working early in the morning under tight deadlines, including:
Adding content under the wrong type or category

Adding duplicate articles

Not including stories published at the last minute (but before your cut-off time)

Adding incorrect article link

Adding content under the wrong media outlet

Failing to mark prominent stories as important
Oh, and did we mention you need to do all this by your early morning delivery deadline?
You can also run media analysis on results after specific time periods to determine the ROI of your PR outreach program and campaigns.
Need help with your media monitoring program?
Fortunately, there's a better way to do media monitoring that won't drive your employees crazy and leave your team with precious little time to spend on core PR tasks.
Outsourcing your media monitoring and morning news brief creation to an experienced, expert team means less media monitoring-related stress and more time to craft and execute winning PR campaigns.
Give one of our media monitoring experts a call to learn how Fullintel's award-winning expert curation, vast content library, and established media monitoring and daily brief processes can improve your team's effectiveness and boost media intelligence ROI.