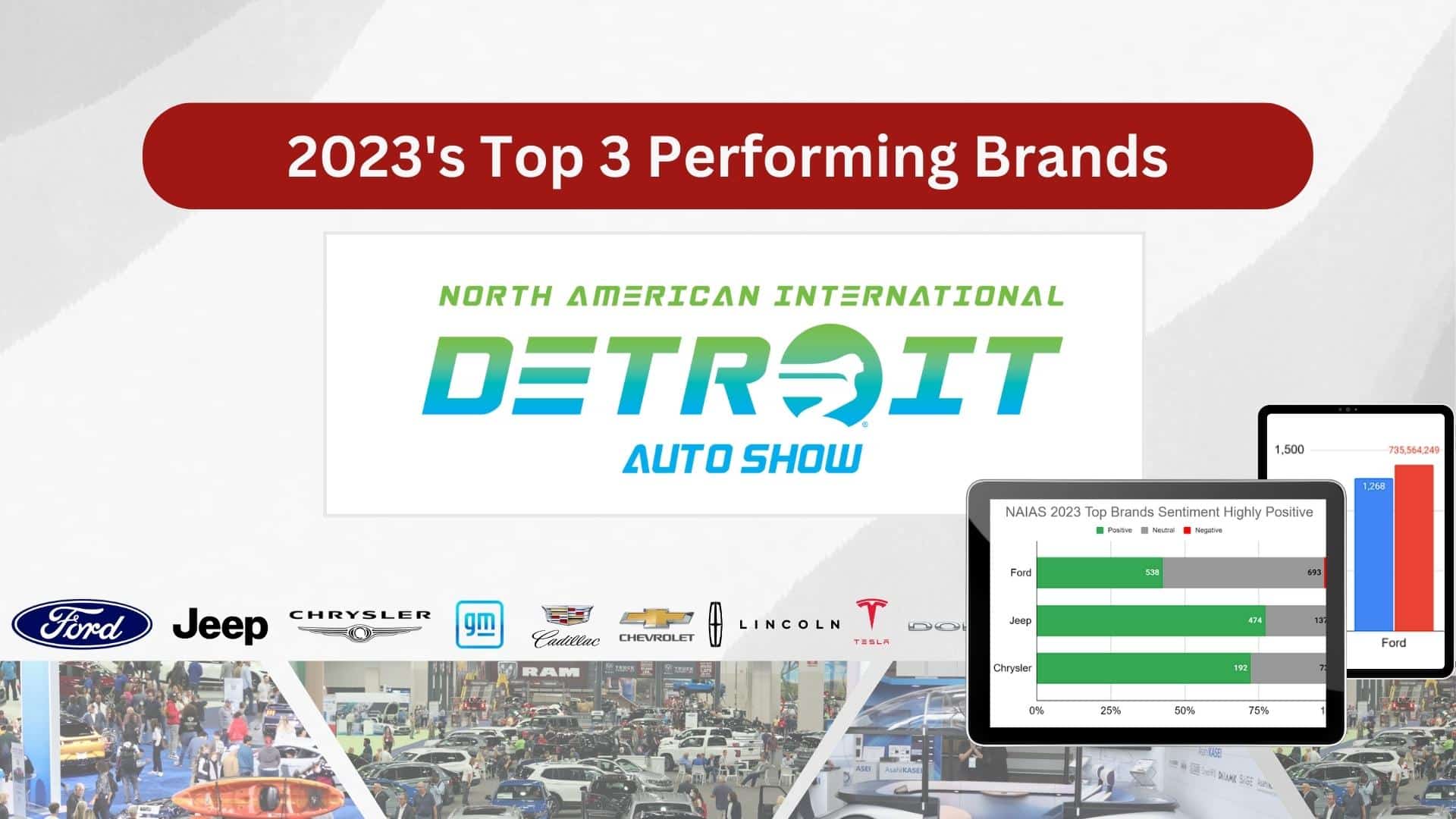 The automotive industry does more to move the economy in North America than most people realize. Worth more than $2.8 trillion annually, any ripples in automotive purchasing trends affect everything from shipping to microchips to changes in how utilities engineer the national energy grid.
Fittingly, there was plenty of media day coverage of the 2023 North American International Auto Show (NAIAS), held in Detroit from Sept. 13 to 24.
But while stories about innovation and sustainability led the way, which automotive brands stole the spotlight?
Fullintel evaluated media coverage from Sept. 13 to 15 to evaluate what cars and brands captured the media's attention, and at this year's NAIAS – which included everything from new models of trucks to flying cars – one brand stood out among the rest: Ford Motor Co.
Its venerable yet ever-changing F-150 product line seized the media's attention, with mentions in more than 1,200 articles and a reach representing more than 700 million unique visitors during the monitoring period.
In announcing that Ford will expand production of its F-150 hybrid to make up 20 percent of the line's total production, Ford made big waves among the automotive press and business reporters covering innovation and environmental sustainability.
While Ford's EV fleet production has lagged, coverage on the hybrid expansion coupled with a redesign of the entire line helped propel Ford above flying cars and, indeed, the rest of the competition.
2. Jeep Steps Into the Colosseum
The "Big Three" automakers largely presented enhanced or new versions of existing models, save for the heavily redesigned GMC Acadia. Stellantis-owned Jeep announced a huge update to its mid-sized Gladiator line, removing the previous diesel engine for a hybrid plug-in. Stellantis also owns Fiat-Chrysler Automobiles and PSA Group (also known as Peugeot S.A.).
The shift to EVs and hybrids captured the most attention in round-up articles, and with more than 270 million in reach and 615 articles, Jeep got its fair share.
It also launched its own Jeep-branded hiking shoes. Heck, if Ferrari can sell soccer (football) cleats, why can't Jeep sell something for the trail?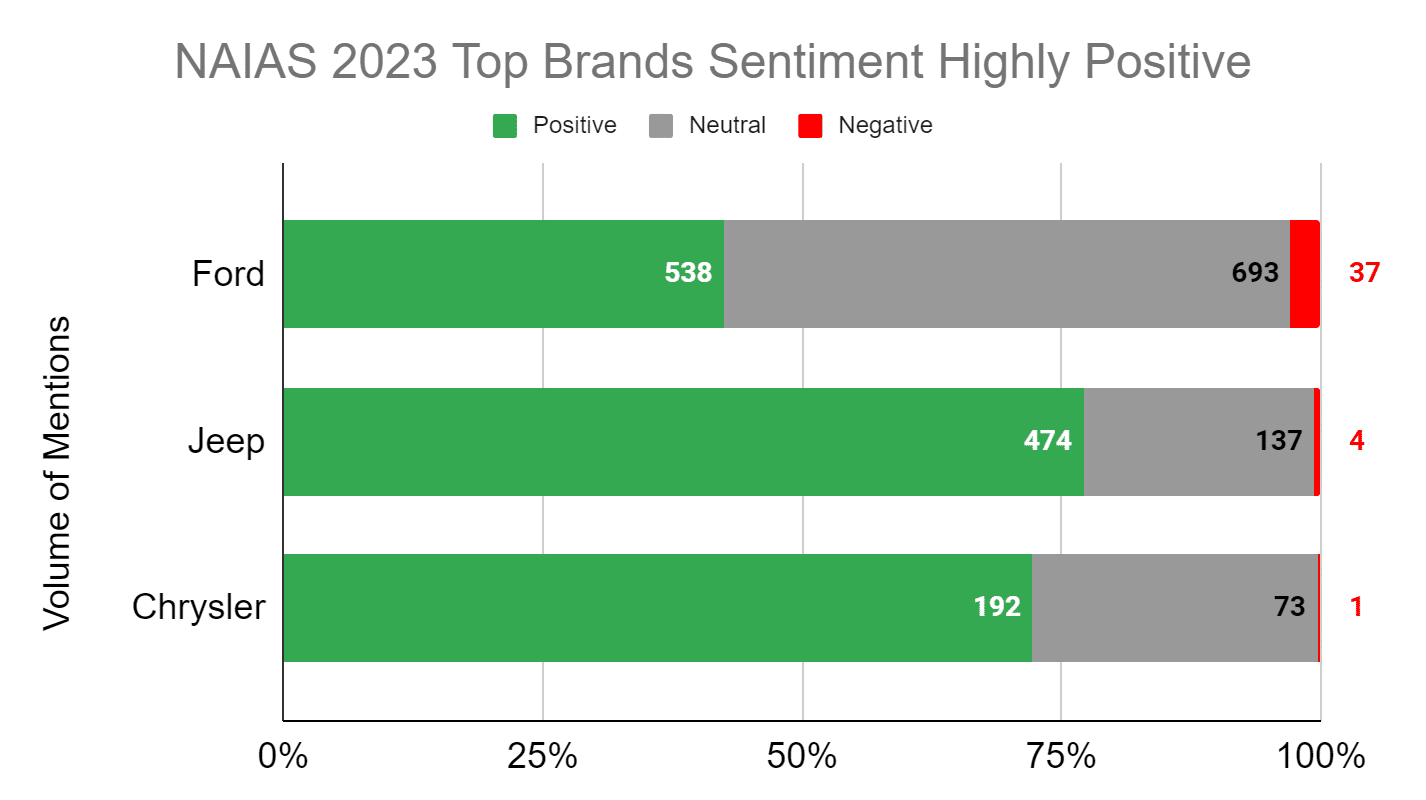 3. Chrysler Coming in Third
Maybe bigger is better? If the F-150 takes top billing, and Jeep and its Gladiator come in second, it only makes sense that the enhanced Chrysler Pacifica had an understated impact on the show's media performance. With highly positive sentiment and more than 250 mentions, the minivan maker did well.
And by showing off the Chrysler Airflow, an EV concept car, the brand got to discuss its EV and hybrid models including the minivan class's only plug-in EV (the aforementioned Pacifica).
EVs and innovation in existing models led the way this year at the NAIAS, but it was the Big Three from Detroit who really won. By highlighting how their designs are being updated to meet customer needs and how they're seeking effective methods to reduce greenhouse gas consumption in both production and operation, brands are showcasing their relevance in an ever-shifting industry.
Want to see this year's complete Media Coverage Brief for the North American International Audio Show?