The team and I were recently having one of our regular meetings (via video conferencing, of course) when we realized that as of this month, Fullintel will have been providing media monitoring, executive news briefings, and media analysis services to our clients for six years running. 
I guess what they say is true: Time flies when you're having fun. Like almost everything worth doing, it seems the past six years have come and gone in a blink of an eye – but with a lot of productive and interesting things happening along the way.
To celebrate our upcoming anniversary, I wanted to look back on some of Fullintel's most significant milestones and moments, along with teasing some of the exciting upcoming products we've got in the pipeline. Enjoy.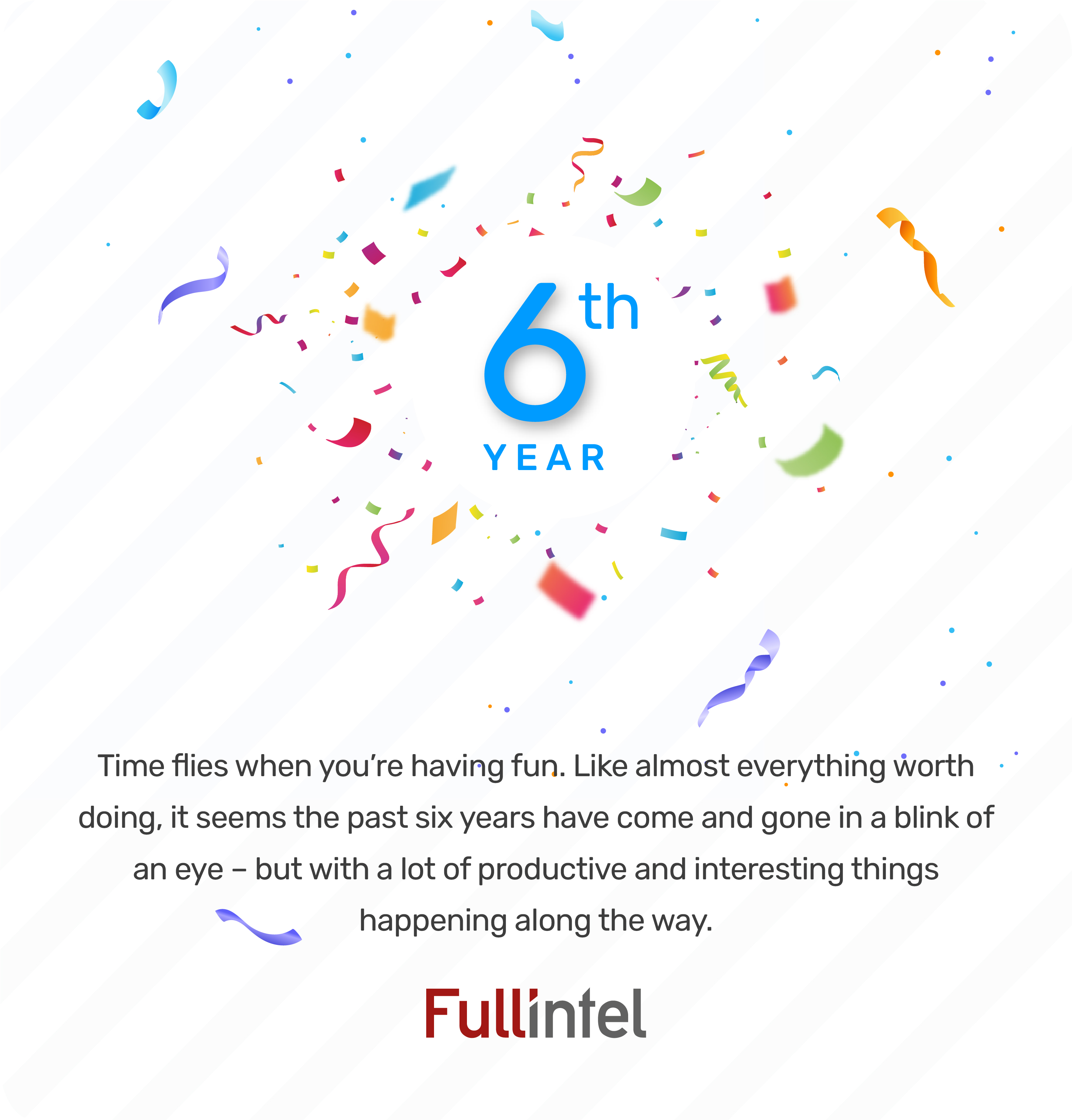 January 2015: Fullintel is founded by CEO Gaugarin Oliver (28-plus years of industry experience at companies such as Thomson Reuters and Nasdaq) and myself (President Andrew Koeck, with 24-plus years of experience helping companies such as Traackr and Critical Mention). Previously, Gaugarin had co-founded media intelligence company MyMediaInfo (with a successful exit to Thomson Reuters in 2012) and I previously co-founded media monitoring and measurement firm dna13 (with a successful exit to PR Newswire in 2010).
The Fullintel backstory: SaaS media monitoring tools had become immensely popular over the decade prior, but had begun to lose their effectiveness. Managing these tools had slowly turned into a full-time job for many communications teams, especially with massive growth in online and social media content. These keyword-based platforms were too noisy. It took too long for clients to find the true value of their media coverage. Many premium sites had begun erecting paywalls or had started pulling out of news aggregators – which meant their content was unavailable in these SaaS platforms without manual monitoring. Gaugarin and I knew that because of these pain points – which still exist in SaaS platforms today – there was a vast market opportunity in blending technology and expert services for media monitoring and executive news briefings.
With that thought in mind, Fullintel's expert news curation service is born.
Summer/Fall 2015: After many months of product development and content partnering to help set the stage for success, Fullintel launches as an executive news briefs and expert curation service (only for Canadian clients at this stage). The company places a high priority on accurate, timely news briefs featuring the past 24 hours' most important news and features delivered early in the morning, before our clients' days begin. 
2016: Media analysis/intelligence services are added to Fullintel's repertoire, and the company begins working with U.S.-based clients with a global footprint. The company's production team in Nagercoil, India, is founded, with media and data experts from Thomson Reuters and Nasdaq joining the team.
2017: Fullintel begins working with large clients in the U.K. and Australia, while opening offices in Cambridge, MA, and Ottawa, Ont. The company's sales team begins ramping up in full. 
2018: Competitive media analysis services are added to Fullintel's repertoire, and the company's total headcount reaches 100 employees. At the same time, our 24/7/365 on-call crisis media monitoring and executive news briefings services are launched, including ongoing media analysis and expertly curated breaking news alerts at any time of day. 
2019: Managers of Fullintel's production team receive prestigious AMEC media measurement certifications after undergoing intensive training. The AMEC certification builds on AMEC's successful Integrated Evaluation Framework, used by Fullintel, and provides a clear summary of best practices for media measurement and analysis.
2020: Fullintel's crisis media monitoring and executive news briefings service wins an AMEC Award, the media monitoring and media measurement industry's standard for excellence, for best crisis communications measurement and reporting. You can read the case study behind our award here. 
2021 (and beyond): Fullintel will continue growing its business while working with top-tier clients across many business verticals including Johnson & Johnson, Royal Caribbean Cruises, Bell Helicopter, and many others. The company's new artificial intelligence (AI)-powered predictive media intelligence and collaboration tool, currently in development, will launch in beta form in 2021.
As founders of Fullintel, Gaugarin and I are incredibly proud of what the team has accomplished over the past (nearly) six years. We've worked with some fantastic partners and excellent clients, from not-for-profits and associations, to multinational corporations, Fortune 1000 companies, and government departments and agencies. 
But the really fun part is that we're just getting started, and can't wait to see what the future holds.