AI Takes Center Stage with Media Buzz Around its Real-World Impact
AI is reshaping the pharmaceutical landscape by significantly reducing the time and costs involved in developing new drugs and bringing about efficiencies. It plays a vital role in various stages of the drug design process, from identifying new drug molecules and improving design techniques to predicting drug properties. By leveraging AI's capabilities in data mining, machine learning, and generative modeling, pharmaceutical companies can streamline drug discovery, virtual screening, and in silico evaluations. AI's ability to analyze vast datasets enhances diagnostic accuracy, enables personalized treatments, and holds great promise for the future of the industry. The Fullintel Hub serves as a one-stop solution to keep up with the latest trends and pharma-related news in this rapidly evolving industry. This powerful tool collects and curates content from multiple media channels, providing clear and accurate metrics for comprehensive analysis. With these insights, pharmaceutical professionals can make informed decisions, predict market dynamics, and effectively navigate the dynamic landscape of the pharmaceutical sector.
This month, let's explore three compelling stories that showcase the transformative potential of AI-aided innovations:
Google's Medical AI, Med-PaLM 2, Enters Real-World Testing
First-Ever AI-Designed Drug Enters Clinical Trials for Lung Disease Treatment
Nvidia Invests $50 Million in Recursion Pharmaceuticals to Accelerate AI Drug Discovery
July's Top Stories:

Google's Med-PaLM 2 Initiates Real-World Testing, Sparking Media Attention and Industry Engagement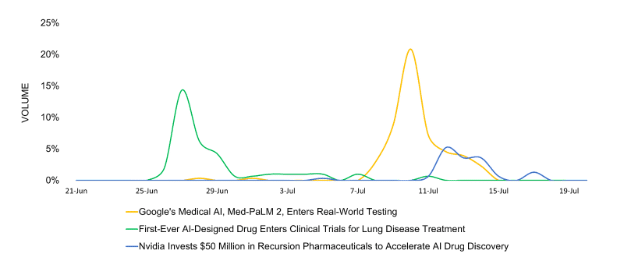 Recently, the media has been buzzing with three innovative news stories that have sparked curiosity among the public and industry experts. These include the real-world testing of Google's Med-PaLM 2, the initiation of clinical trials for the first drug generated by AI, and Nvidia's investment in Recursion Pharmaceuticals to drive AI-powered drug discovery.
Google's AI-powered tool, Med-PaLM 2, developed to address medical queries, has entered the testing phase at Mayo Clinic, sparking social media engagement and discussions about the reliability of AI in medical decisions. In addition, the commencement of Phase 2 clinical trials for the first-ever AI-designed drug has spiked anticipation for potential breakthroughs in pharmaceutical innovation. This positive sentiment was further solidified by Nvidia's substantial investment in Recursion Pharmaceuticals to expedite the drug discovery process using AI tools as users eagerly await to witness the synergistic blend of Recursion's medical expertise and Nvidia's cutting-edge technology. This significant progression in the AI-pharmaceutical sector accounted for 6% of pharmaceutical media coverage this month.
A Break-Down of Recent Trending Stories:

Google's Medical AI, Med-PaLM 2, Enters Real-World Testing
Google's AI chatbot, Med-PaLM 2, has begun testing at Mayo Clinic, creating intense competition with the Microsoft-backed ChatGPT. The chatbot made an impressive debut at Google's annual IO event in May, with Google showcasing its potential to outshine "more general-purpose algorithms" in healthcare conversations. Med-PaLM 2's training on questions and answers from medical licensing exams enables it to support overburdened doctors and distressed patients by providing vital medical information and organizing data. Interestingly, a study reveals that physicians often prefer Med-PaLM 2's responses over human doctors' responses. This revolutionary tool receives overwhelmingly positive and neutral sentiments, evoking elevated "wow" and "love" expressions on social media. However, like other AI models, Med-PaLM 2 can generate incorrect content, leading to concerns about inaccuracies and misinformation, contributing to a 2% negative sentiment and "angry" reactions. Google acknowledges that the technology is still in its early stages, with a senior research director voicing reservations about employing it in his family's healthcare journey. While the testing of Med-PaLM 2 highlights its promising aspects, it also emphasizes the need for cautious development and integration of AI in healthcare.
First-Ever AI-Designed Drug Enters Clinical Trials for Lung Disease Treatment
Insilico Medicine, a Hong Kong-based biotechnology company, is making historic strides in drug discovery through the world's first AI-generated drug for treating idiopathic pulmonary fibrosis (IPF), a chronic lung disease. The drug, INS018_055, is currently undergoing Phase 2 clinical trials, with oral administration to patients over a 12-week period. By leveraging generative AI, the company has managed to cut development time by a third and cost by a tenth, compared to traditional methods that take several years and cost over $400 million. This advancement promises potential solutions to the limitations of current IPF treatments that primarily focus on symptom management and can cause severe adverse effects. Moreover, Insilico Medicine has two other AI-generated drugs in the pipeline: a COVID-19 drug in Phase 1 trials and an FDA-approved cancer drug that targets solid tumors as a USP1 inhibitor. The public has reacted with overwhelming positivity, expressing "wow" and "love" emotions, acknowledging this significant stride in drug discovery and clinical trials. Nonetheless, the challenge lies in recruiting patients for clinical trials, particularly for rare diseases like IPF. With unwavering optimism, Insilico Medicine remains determined to bring the AI-designed drug to the market soon. The press release and subsequent coverage of this milestone garnered the highest trending score on June 27, igniting curiosity on a global scale.
Nvidia Invests $50 Million in Recursion Pharmaceuticals to Accelerate AI Drug Discovery
Nvidia's recent $50 million commitment to AI drug discovery, targeting biotech firm Recursion Pharmaceuticals, generates significant media interest. The collaboration aims to develop groundbreaking foundation models in biology and chemistry, leveraging Recursion's extensive biological and chemical datasets exceeding 23 petabytes. By training AI models on Nvidia's cloud platform and employing their expertise, Recursion plans to accelerate drug discovery and potentially license AI models through Nvidia's BioNeMo cloud service. The investment has been well-received, with Recursion's stock soaring and analysts highlighting the partnership's potential, eliciting positive reactions from social media users. However, concerns about the potential overhype and overreliance on AI in drug development draw neutral sentiment and a few "sad" responses from the audience. Despite these concerns, the overall sentiment surrounding Nvidia's investment in AI drug discovery remains optimistic, demonstrating the growing recognition of AI's potential to revolutionize the development of life-saving treatments. The announcement of this significant investment on July 12 earns the highest trending score of 5.