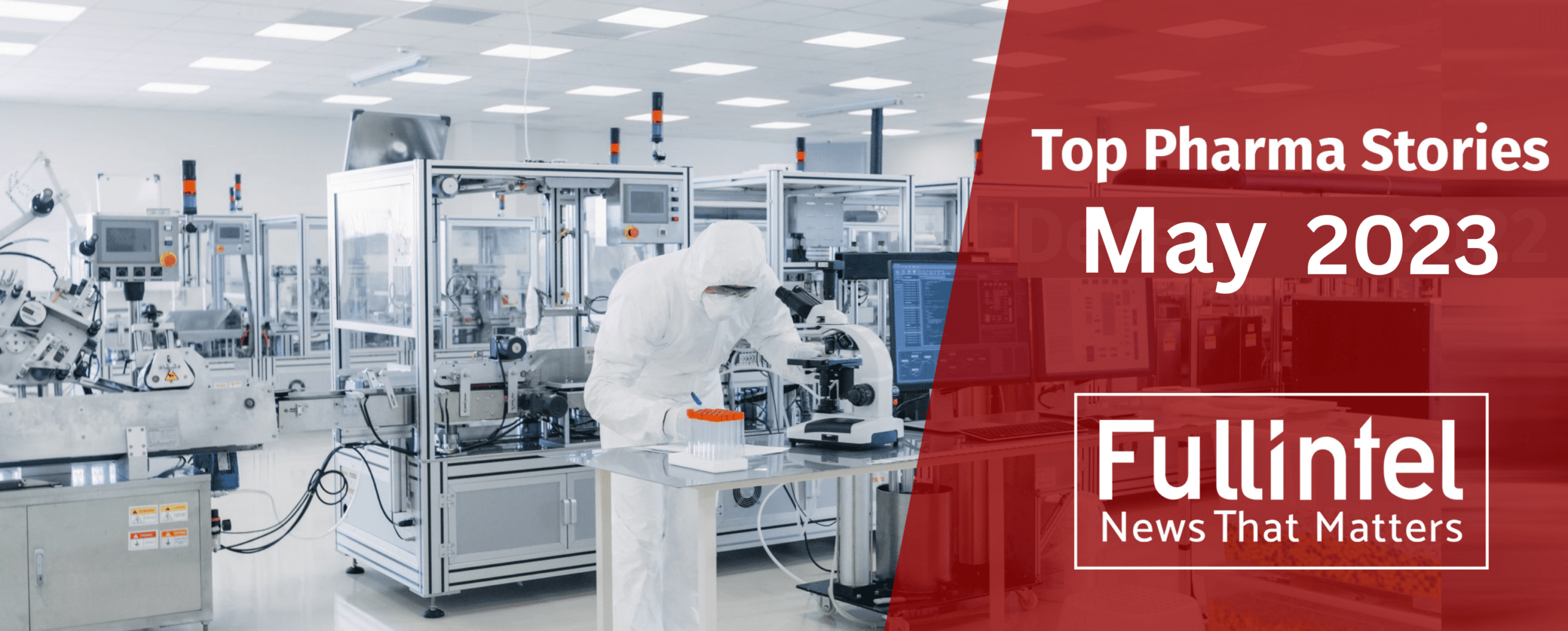 Google's Latest Medical AI-Language Model Med-PaLM 2 Attracts Media Attention
Artificial Intelligence (AI) is revolutionizing the pharmaceutical industry by accelerating drug discovery and clinical trials, as well as enabling personalized medicine with extensive biomedical data analysis. By leveraging AI, pharmaceutical companies expedite drug development, minimize human errors and optimize performance. This technological integration unlocks novel opportunities and delivers a substantial upswing to the industry. In addition to news around AI integration, recent developments, such as establishing an animal research oversight board and the conclusion of the U.S. COVID-19 public health emergency, introduce important ethical and preparedness considerations for the industry. The Fullintel Hub serves as a comprehensive source for critical healthcare and pharma news, with metrics and social media analytics to spotlight key industry trends.
Let's delve into the following groundbreaking innovations and recent proceedings in the industry this month with three top news stories:
Google Unveils Med-PaLM 2, a Medical AI Model To Rival Your GP
Animal Testing Panel at Neuralink Draws Criticism Over Potential Conflicts of Interest
COVID-19 Public Health Emergency Ends But Experts Warn of Possible Resurgence
May's Top Stories:

Google's Groundbreaking Medical AI Model Med-PaLM 2 Attracts Media Spotlight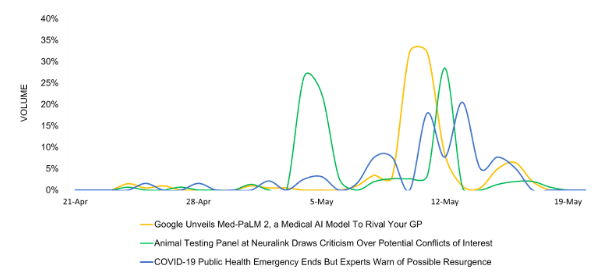 Media coverage this month prominently featured three topics that captivated public interest, particularly during the start of May. These topics include the introduction of Google's Med-PaLM 2, the potential conflict of interest arising from Neuralink's animal testing panel and the conclusion of the COVID-19 public health emergency, signaling a shift in pandemic prevention that experts are cautioning against.
Google's launch of Med-PaLM 2 at its annual I/O event garnered substantial media buzz this month, creating a mix of positive and neutral sentiments. Neuralink's animal testing panel was another trending topic, sparking debates across multiple platforms due to concerns about panel members potentially being financially motivated by the company's success. Lastly, the end of the U.S. COVID-19 emergency and warnings from health experts regarding the potential reemergence of the virus in new forms generated the highest social engagement among the top stories.
Collectively, these topics accounted for 7% of the overall media coverage in the pharmaceutical industry, underscoring their significant media impact.

A Break-Down of Recent Trending Stories:

Google Unveils Med-PaLM 2, a Medical AI Model To Rival Your GP
During its annual IO event, Google unveiled the Med-PaLM 2, an advanced medical large language model (LLM) that builds upon its PaLM (Pre-trained AI-Language Model), integrating cutting-edge techniques and extensive medical text datasets. Med-PaLM 2 has achieved an impressive 85.4% accuracy rate on the United States Medical Licensing Examination (USMLE) questions, matching the performance of expert test-takers. This represents a significant advancement from the original Med-PaLM, which gained attention earlier this year for its exceptional ability to respond to medical inquiries. In contrast to its predecessor, Med-PaLM 2 delivers accurate and relevant medical information for clinical decision-making, enhancing efficiency, improving patient outcomes and reducing healthcare costs. However, privacy and data security concerns arise due to the model's handling of sensitive medical data, resulting in the 2% negative coverage. Experts agree that addressing biases and disparities in Med-PaLM 2's training data is crucial to prevent perpetuating healthcare inequalities. Despite these concerns, the positive response from users, as evidenced by an influx of "love" reactions on social media, illustrates Med-PaLM 2's potential to revolutionize the medical field. Its advancements promise improved diagnostics, patient engagement and education while accelerating medical research. The official announcement of Med-PaLM 2 caused a significant stir online, securing the highest trending score of 5 on May 10 and 11. The overwhelmingly positive and neutral sentiment surrounding the model accentuates its potential to propel AI technology advancements in healthcare.
Animal Testing Panel at Neuralink Draws Criticism Over Potential Conflicts of Interest
Elon Musk's Neuralink has caused a stir of criticism and potential investigations surrounding its animal testing oversight board. Company documents and employee interviews reveal that, as of late 2022, 19 out of 22 board members are company insiders, potentially having financial incentives tied to the company's success. This situation raises concerns about violations of conflict-of-interest guidelines and undermines the integrity of animal research. Neuralink's rushed and mismanaged experiments, resulting in animal deaths and suffering, are drawing the attention of U.S. lawmakers, including House Representatives Earl Francis Blumenauer and Adam Schiff. As a response, these lawmakers are expected to urge the U.S. Department of Agriculture to investigate the company's experimental oversight. Neuralink has also faced a prior federal investigation concerning potential infringements of the Animal Welfare Act and the movement of hazardous pathogens, capturing headlines in December and February, respectively. The news concerning the animal testing panel, fraught with potential conflicts, peaked with a trending score of 5 on May 4 and 12, resulting in a 16% negative sentiment. A large number of "angry" reaction
COVID-19 Public-Health Emergency Ends But Experts Warn of Possible Resurgence
Since its onset in 2019, the COVID-19 pandemic has caused several global waves, dramatically influencing healthcare infrastructures, economic landscapes and day-to-day living. The recent cessation of the national COVID-19 public health emergency in the United States on May 11 marked a significant milestone in the fight against the pandemic. A decrease in cases and fatalities, primarily attributed to vaccines and treatments, has been instrumental in determining the end of the emergency. Both hospital admissions and deaths have reached their lowest points since the initial global outbreak in March 2020. However, the Centers for Disease Control and Prevention's (CDC) recent decision to scale back virus-tracking efforts has raised concerns about the nation's preparedness for future outbreaks, resulting in a large share of neutral coverage. The termination of the emergency carries political and financial implications, including the potential loss of funding and services, such as Medicare and Medicaid waivers. The prospect of diminished funding for vaccine development is among the key factors heightening these concerns. The World Health Organization (WHO) has also ended the global COVID-19 emergency but urges against dismantling response systems. Health experts emphasize the importance of sustained vigilance by adhering to preventive measures like vaccination, mask-wearing and continued surveillance. However, this development has garnered a 4% positive sentiment, reflecting public relief at the end of stringent measures. A majority of online users display a range of reactions, including "laugh," "sad" and "angry" emojis, indicating mixed emotions about the government's handling of the pandemic. These emotional cues not only capture the public sentiment during the crisis but also shape the public's perception of the government's preparedness and response now that the public health emergency has ended. Despite ranking third in volume, the topic stands out with the highest social engagement of 20.79K interactions, highlighting its profound importance on a global scale.