Issue & Crisis Monitoring
Understand your brand's reputational risk during a crisis 24/7/365
A crisis doesn't always happen between 9am-5pm. Serious product issues, management slip-ups, security breaches, or litigation can negatively influence your business's reputation. It is critical that organizations monitor relevant mentions of their brand during times of crisis to stay on top of developing issues.
Analyst-curated crisis services include:
24/7 alerting on relevant breaking news (SMS or email)
Multiple coverage reports delivered throughout the day
Crisis wrap-up analysis report providing key takeaways
The Fullintel analyst team works around the clock, leaving you with the time needed to successfully plan and react to the situation.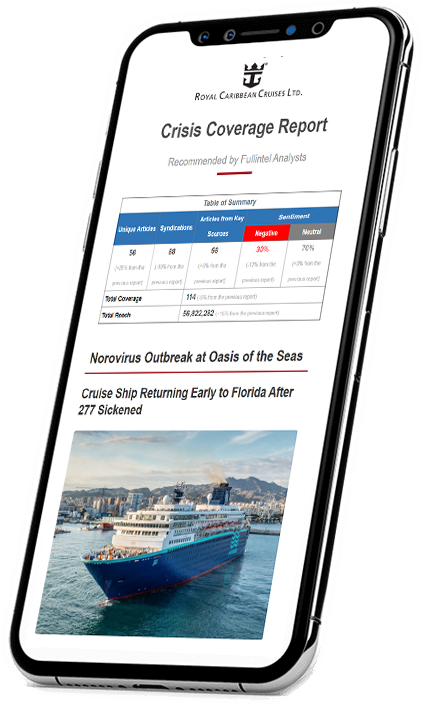 Our Process for Crisis Monitoring
Step 1
Trigger monitoring
Engage with Fullintel via email or our 24/7 crisis hotline to initiate your custom crisis monitoring sequence.
Step 2
Alerting
Start receiving analyst-curated alerting immediately on breaking crisis mentions.
Step 3
Scale Up
Start receiving up to 3 curated media reports throughout the day to stay on top of relevant, breaking mentions.
Step 4
Scale Down
As your crisis winds down, you have the option to scale back on the number of daily reports you receive, as needed.
Step 5
Analysis
Receive a curated analysis report, providing relevant statistics and deep insights on the overall media impact of the event.
Crisis Coverage Report
Fullintel Analysts will monitor for relevant, crisis-related mentions of your brand around the clock. They will then compile the results, perform a comprehensive analysis, and deliver multiple Crisis Coverage Reports at your chosen frequency.
Some of the many insights you will gain from your Crisis Coverage Report include:
Key Statistics
Your analyst will provide actionable data that builds on your previous report to understand how your issue is unfolding in the media.
Executive Summary
Your analyst can provide a comprehensive overview of the coverage you received so you can understand your position in the media without having to read every article.
Analyst-Scored Tonality
Understand how your brand is being perceived in the media. Analysts will determine the tonality of each article with reference to your brand health, not just based on keywords.
Social Media Impact
Fullintel analysts will include posts from top influencers and also highlight the added reach your mentions receive as a result of social media engagement.
Curated Analysis Report
Once your crisis winds down and comes to an end, your analyst will compile all of the data captured in your daily Crisis Coverage Reports, and deliver a curated analysis report spanning the entire duration of the crisis. Understand, from start to finish, the overall impact on your brand with comprehensive insights and engaging graphics.
Some of the many insights you will gain from your Curated Analysis Report include:
Dashboard of Key Data
Your analyst will provide a dashboard of key data that captures an overview of the impact on your brand during the crisis.
Stock vs. Volume
Understand how the volume of articles about the crisis has affected your market shares with stock vs. volume data over the duration of your crisis.
Geographical Data
Understand how far the news mentions of your crisis has reached with geographical data, including share of voice by region.
Social Media Impact
Fullintel analysts will include a summary of top influencers, and also highlight the added reach and share of voice your mentions receive as a result of social media engagement.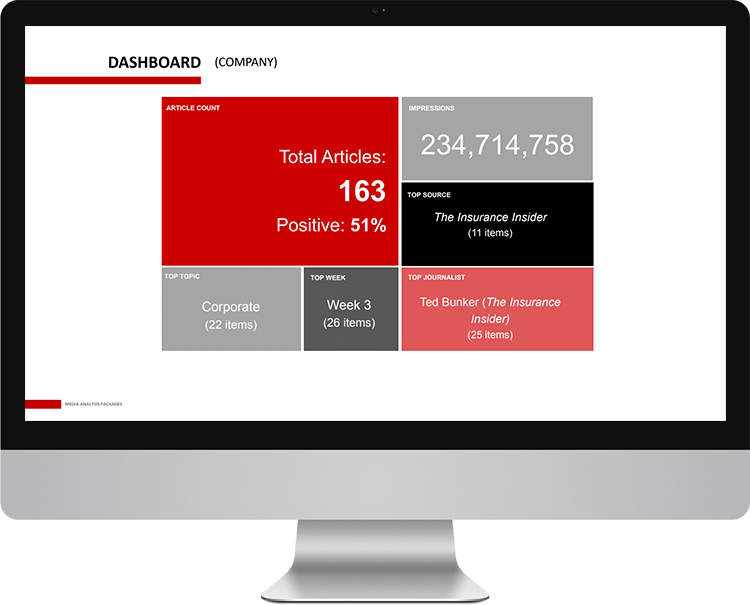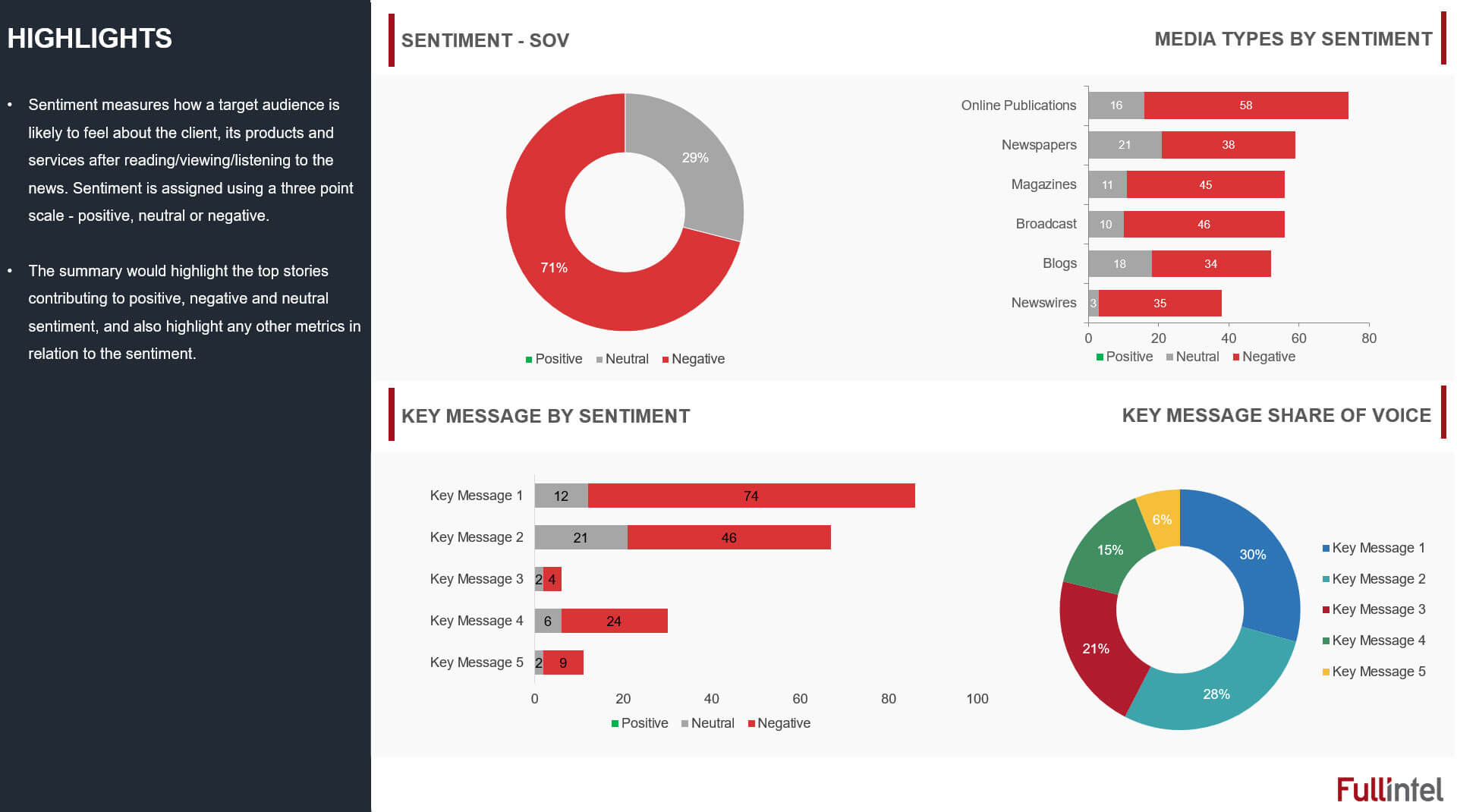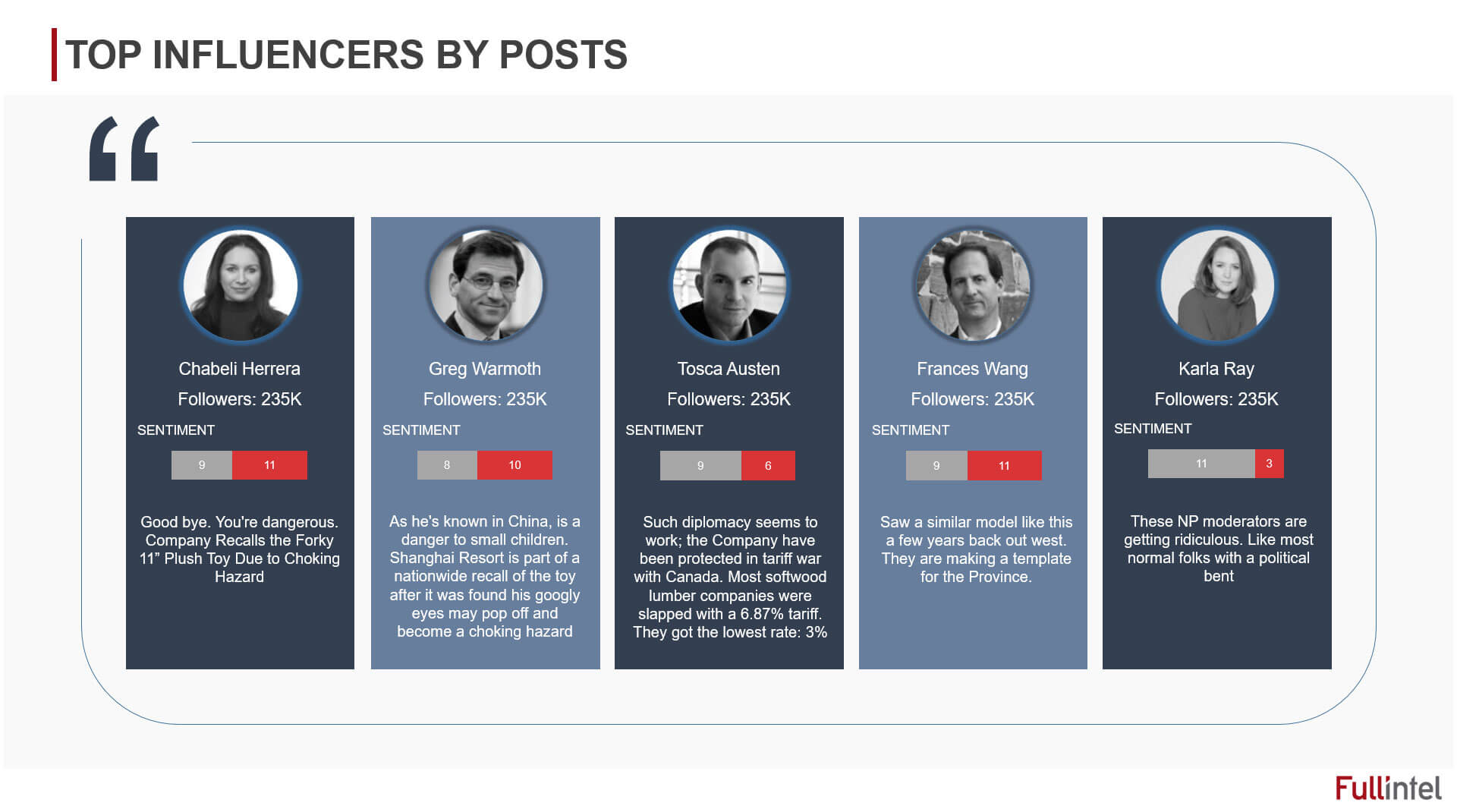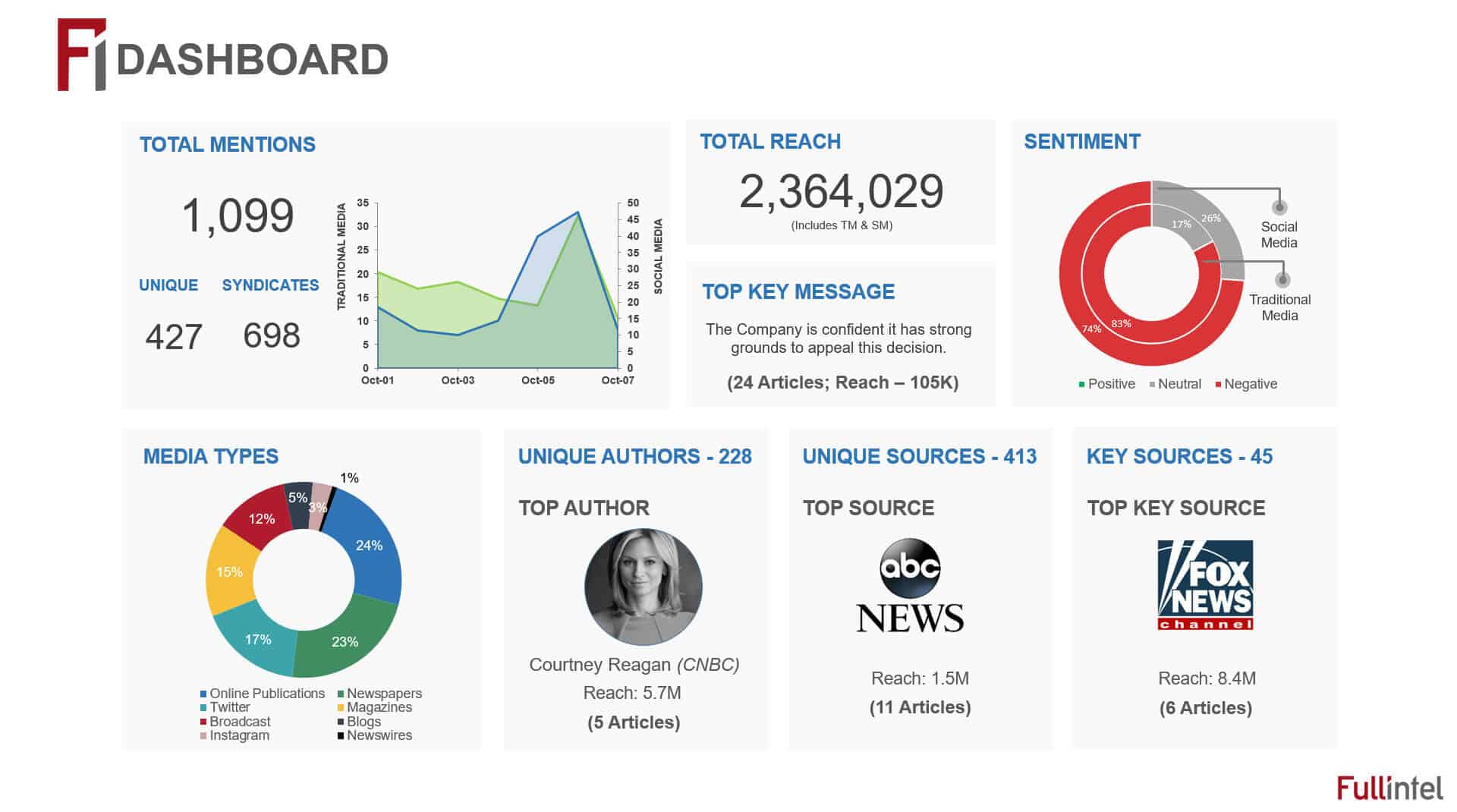 Media Monitoring
Get a view of your coverage across all channels incuding online news, broadcast, social, radio, and even premium subscription services.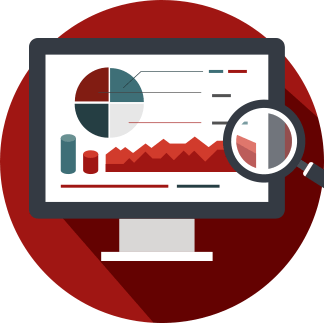 Media Analysis
Leverage the expertise of your dedicated Fullintel analyst for interpretation of your coverage and the impact on your brand.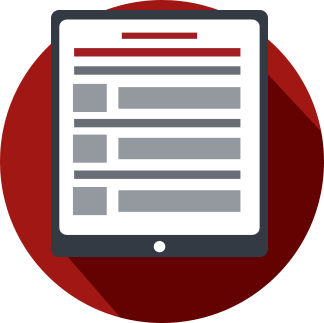 Executive News Briefs
Daily media coverage highlights and summarized insights, handpicked for relevancy and delivered to your inbox at the start of your day.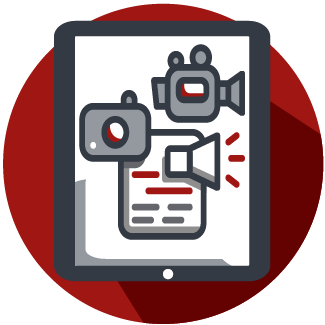 Event Monitoring
Track mentions, sentiment, and other KPIs down to the minute during earnings days, product launches, trade shows, and other important events.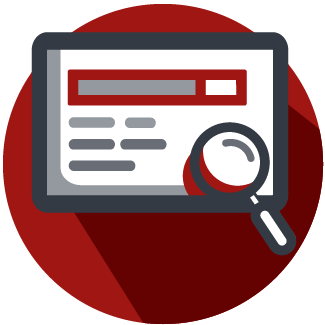 Risk & Compliance Monitoring
Accurate, real-time risk signals media monitoring to detect supply chain and other issues before they become major problems.
Let Fullintel be your managed services partner for media monitoring and reporting. Request a 30 minute, interactive demo to learn more.