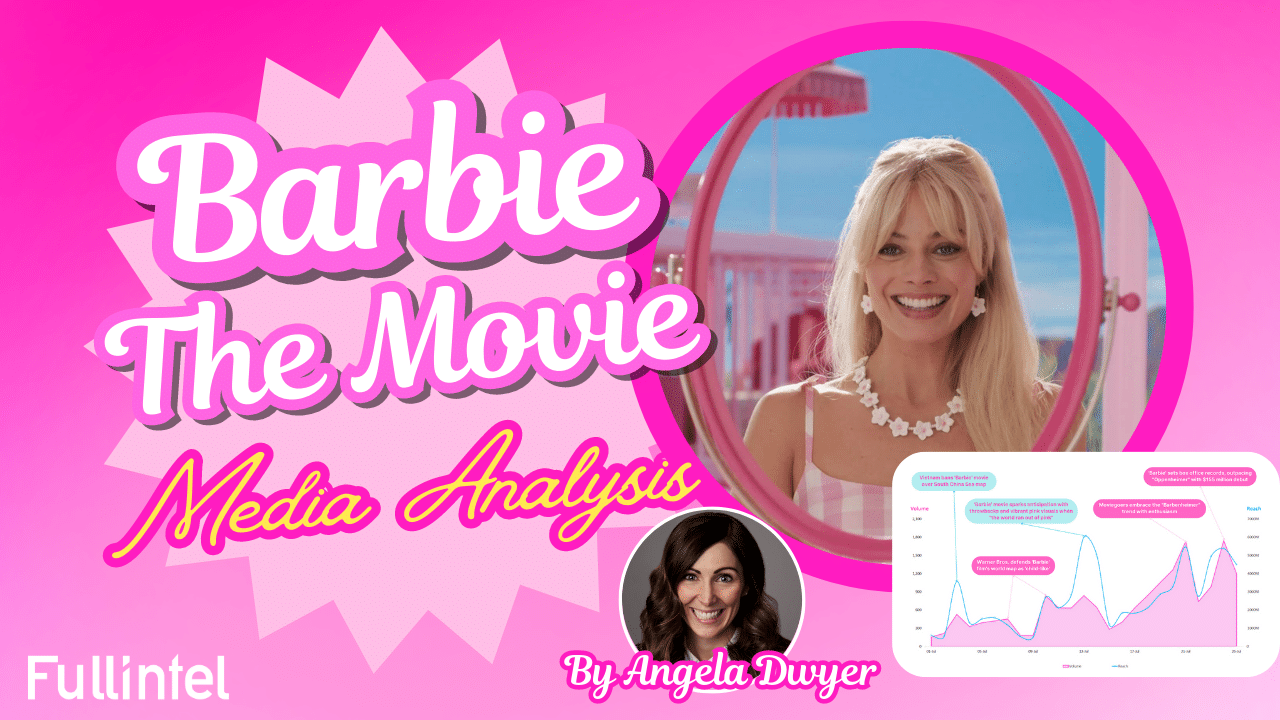 Barbie–the name itself stirs mixed emotions–some feel pleasant nostalgia of their own Barbie, convertible and dreamhouse, others feel resentment for an unattainable standard of beauty or even a sexist image. The Barbie Movie generated significant media coverage–over 17,000 articles in top publications across 8 global markets in a period of 25 days! 
Partnerships and collaborations all perfectly packaged in pink dominated storefront windows, social media and even the Google search page. Was the Barbie investment worth it? Did it successfully shift old perceptions of Barbie to new perceptions that support strong and successful women who care more about ideas than image? 
Our Fullintel analysts took a dive into the news coverage pre-launch and the first few days after the launch with an in-depth human analysis to understand the perception of the Barbie Movie, specifically around potentially controversial topics. The Barbie Movie had the potential for multiple crisis flares with existing mixed feelings, however, the analysis shows overwhelmingly successful results with minimal criticism where it might be expected and instead positive coverage around "female empowerment."
Leading up to the release weekend, media attention revolved around anticipated challenges related to body image/self-esteem, female empowerment, and diversity. However, the sole significant negative focus arose from an inaccurate map causing the Barbie Ban incident. Warner Bros responded to the criticism by explaining that the map was a "child-like" drawing, in line with the child-inspired fantasy themes of the Barbie world. 
Subsequent coverage highlights Barbie's recent adoption of the "Barbiecore" movement, which focuses on championing diversity and body positivity, resulting in a beneficial influence on both mental health and the broader societal outlook toward embracing diversity.

After its release, Barbie's remarkable box office success commanded attention with overwhelmingly positive coverage across all major topics. While the movie ban was a highly debated topic, the film's triumphant performance effectively silenced those concerns and criticisms–it stood on its own merits.
Media coverage on female empowerment spiked after the movie's release, owing to Greta Gerwig's impassioned direction giving Barbie real intellectual and emotional power. After all, Barbie was an astronaut and a doctor before women were even permitted to own credit cards.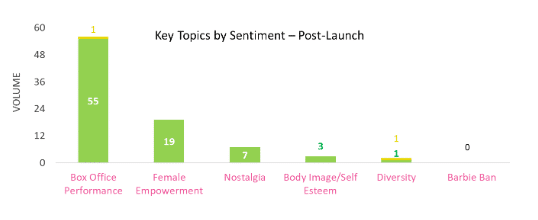 The Media Impact Score (MIS) is a quality metric measuring a defined set of criteria that includes sentiment, prominence, key messages, outlet tier, visuals and more. By analyzing the coverage and weighing factors that drive recall and audience behavior, we can determine that the movie's overall media impact was very successful, even when taking into account neutral coverage and the negative coverage surrounding the movie ban.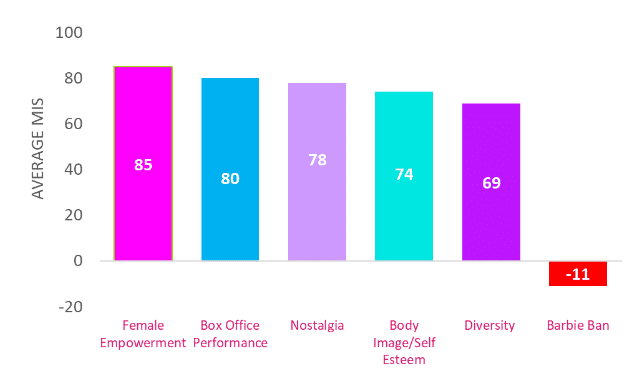 Gerwig's historic success in claiming the biggest opening weekend for a film directed by a woman drives female empowerment to the highest scoring key message. In a summer of lackluster box office performance, girl power takes the trophy and establishes women-led movies as powerhouse opportunities in the industry.
Alternately, conversations surrounding female empowerment would surely have been different had the film been directed by a male director, with Ryan Gosling as the leading voice of the movie's talent in PR campaigns. Greta Gerwig and Margot Robbie claim 75% of all the voice coverage around the movie.
In Barbie's enchanting world, the themes of body image, self-esteem, and diversity subtly yet profoundly shape the narrative. As the dust settles post-release, it's evident that discussions surrounding these aspects are mostly positive with mixed sentiment comprising only a fraction of the overall coverage (only 2% of topic coverage was mixed post release).
An array of perspectives, ranging from glowing commendations to thought-provoking critiques, highlights the movie's commitment to reflecting the real world. As a result, this cinematic journey not only captivates with its storytelling but also ignites conversations about the nuances of self-identity and the tapestry of human differences. The Barbie movie emerges as a symbol of empowerment and inclusivity, reminding us that its impact reaches far beyond the silver screen.
In conclusion, the money invested not only paid out in box office sales ($775 million after the second weekend) and an increase in Mattel stock (stock prices have increased 30% after a low in March), but in the overall reputation of Barbie. But all is not done–Mattel and Barbie have started a journey and are now committed to walk the talk of female empowerment, which may lead to an increase in diverse dolls, not only in ethnicity but also in body types and abilities. And after all this, I might even finally let my girls get the Barbies they have been asking for for years!