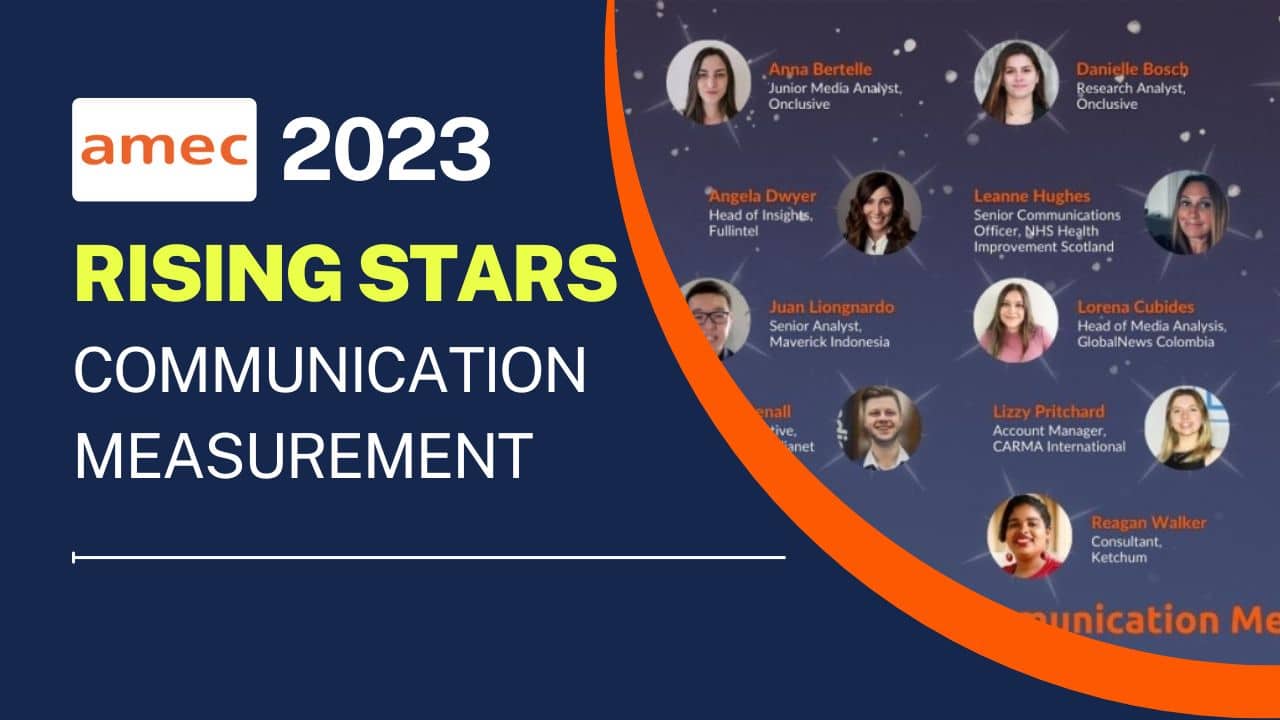 Fullintel Head of Insights Angela Dwyer has joined nearly 20 of her industry colleagues as a 2023 AMEC Rising Star of Communication Measurement. 
AMEC's Rising Stars program, now in its third year, is meant to celebrate "upcoming measurement leaders (and recognize) individuals making remarkable progress in their communication measurement journey." The program honors those in the media intelligence industry who represent the future of data, measurement, evaluation, and analytics. 
To be named an AMEC Rising Star, nominees must consistently: 
Lead innovation and drive new ideas forward

Take initiative to educate clients or colleagues on measurement-related issues

Possess a strong interest in data and analytics

Show a continuous desire to improve processes and insights

Achieve increased revenue or profitability for the organization

Build strong and lasting client relationships

Support and collaborate with other team members

Encourage the use of AMEC best practices, such as the

Barcelona Principles

or

AMEC's Integrated Evaluation Framework
"It's a huge honor to be named among this group of rising stars from across the world," says Fullintel Head of Insights Angela Dwyer. "This is a testament to Fullintel's commitment to drive measurement best practices, develop innovative and easily translated metrics, and work closely with clients every day to provide research-based insights to drive business outcomes."
Dwyer develops and implements advanced, research-based media metrics, including Fullintel's Media Impact Score, to help improve the effectiveness of PR campaigns and media outreach for Fullintel clients in various industries. She's especially interested in drivers of recall and predictors of how people think about brands after they've consumed various media. 
Her research identifies key factors that make a reader more likely to remember a brand when exposed to news articles, with visuals topping the list. Based on this research, Dwyer has defined a formula that helps identify the media coverage most likely to lead to positive reader recall.
Dwyer actively partners with other researchers in the media intelligence field. She's also actively involved in the Institute for Public Relations (IPR), Fierce Pharma's Pharma PR & Communications Summit, and the International Public Relations Research Conference (IPRRC). 
2023's group of 18 AMEC Rising Stars are from 13 organizations spanning all five AMEC Chapters: Asia Pacific, Europe, Latin America, Middle East and Africa, and North America. 
Launched as part of AMEC's 25th Anniversary celebrations in 2021, the Rising Stars program is meant to showcase the media intelligence industry's next cadre of leaders. It's led by AMEC Board Directors Steph Bridgeman and Amrita Sidhu as a collaboration with the AMEC Gen Hub, the organization's rebranded Youth Professional Group, with a goal of recognizing and promoting new and emerging talent in the field.