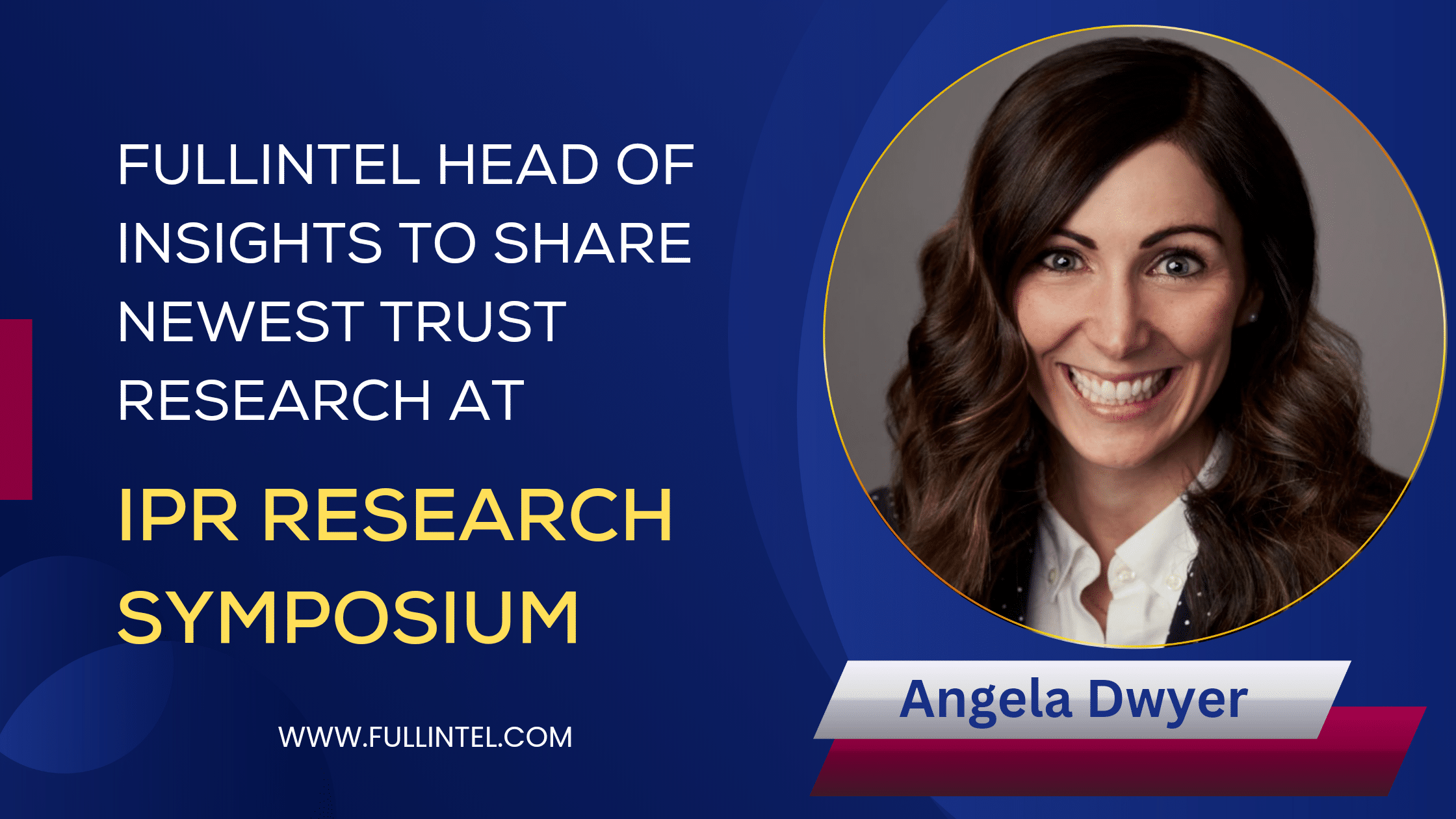 Fullintel's Head of Insights, Angela Dwyer, will present new and original research and data on the importance of trust for brands at this year's IPR Research Symposium on Nov. 30.
Dwyer has produced three original research studies on trust factors for consumer, pharmaceutical, and business-to-business (B2B) brands in the past year alongside research partner and UConn Assistant Professor, PhD Tyler Page.
The research showed that media coverage can build brand trust based on three tested trust factors, allowing PR and communications teams to better measure trust, show value, and proactively build trust with their audience and customers.
The Importance of Trust
Audience and customer trust is critical for successful PR, communications, and marketing teams – and their organizations. A 2022 PwC study on trust concluded that: 
91 percent of respondents would likely purchase from a company that gained their trust

71 percent would be unlikely to purchase from a company if that company loses their trust 

50 percent believe "trust should be a leading priority" and that organizations have a "responsibility to build trust"

One-third would pay a premium to do business with companies they trust
Trust built over time can even help protect a brand during a crisis, says Dr. Page. "Communication and actions that establish the virtuousness of an organization and its actions before, during, and after a crisis will have a very large effect on post-crisis reputation, which is strongly related to trust," he says.
"Virtuousness is established by caring for others, acting fairly, respecting authority, being loyal, and respecting societal norms."
Presenting Fullintel's Newest Trust Research 
This year's IPR Research Symposium will be the first time Dwyer and Page's third study – on what B2B brands can do to build trust, and which just concluded in November – will be made public.  
Dwyer most recently presented the consumer and pharmaceutical research papers' findings at the PRSA ICON conference in October. The consumer research paper won an IPRRC benchmarking award this past March.
All three Fullintel-UConn mixed-method studies included a nationally representative survey of around 400 respondents along with a deep content analysis.
The research has also informed a new, trust-based metric used by Fullintel's media analysis team. Fullintel's Trust Score is represented on a scale from 0 to 10 – the higher the number, the more likely the brand is to be trusted. 
Event Highlights Key PR Research
The IPR Research Symposium is free to attend, takes place at MSL New York (375 Hudson St.), and is geared toward senior-level practitioners and academics. It starts at 2 p.m., just before the IPR Distinguished Lecture event – also on Nov. 30 – which celebrates leaders in PR and communications. 
This year's Research Symposium speaker lineup includes:
"It's incredible that IPR provides this free research symposium before the event for those who are coming into the city to celebrate that evening," says Dwyer. "It really is a gift from IPR to highlight key research in the industry that can help us be better and more informed PR leaders. The insights we've derived from our trust research, for example, will be valuable for PR leaders in any role."
The Research Symposium is IPR's end-of-year thank you event to its supporters across the country and will feature the latest research and insights on employee communication, behavioral insights, measurement and evaluation, digital media, and DEI.