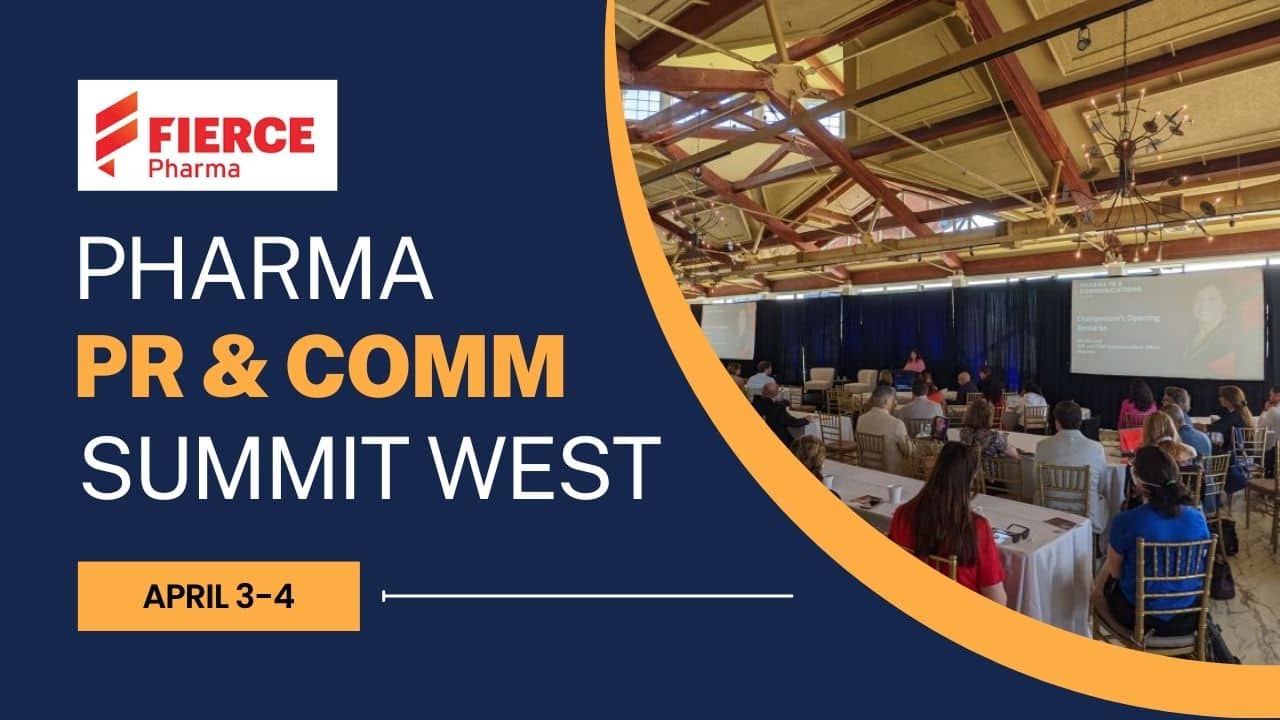 The pharmaceutical business is a complicated, highly regulated business vertical with plenty of complex communications challenges for PR professionals. 
These challenges – and the opportunities they present – is Fierce Pharma's annual Pharma PR & Communications Summit West's raison d'etre. Since its founding in 2021 it's the only west-coast event focused on communications strategies for the pharmaceutical business. 
Fullintel recently caught up with conference organizer Michelle Benz to get the details on what we can expect at this year's event, set for April 3 to 4 at the Hard Rock Hotel in San Diego's ultra-hip Gaslamp Quarter.
Which Hot Topics will be Discussed?
The event will feature several expert panels and case studies meant to dive deep into several topics, including a case study featuring Takeda and Rio Chemical on how to get more diverse candidates into the top of the hiring funnel.
Other comms-related topics to be covered at this year's event will include:
Drug price reforms

spurred by the U.S. Inflation Reduction Act (IRA)

Patient advocacy and how to responsibly incorporate patient feedback

Environmental, social, and governance (ESG) issues 

Crisis communications

best practices

The risks for large pharma brands who use Twitter

How to accurately measure pharma PR campaigns
The last topic is one Benz says she's particularly excited about. "Because oftentimes we see folks providing pretty charts or graphics to their leadership, but it doesn't really resonate with senior executives," she explains. KPI's around PR and communications aren't usually the same as those valued by the C-suite, after all. 
"We're trying to make it more palatable for them and translate it to something they can relate to around what drives behavior change. Because that's a key indicator for us: Not just saying 'this many eyeballs saw it,' but how did it actually affect behavior and drive people to do certain things?"
Additional measurement challenges to be addressed at this year's conference include measurement frequency best practices, the best metrics to use, and how to design campaigns with measurement in mind from Day 1. "A bit like reinventing the campaigns from a measurement perspective, rather than as an afterthought," she says.
The Pharma PR & Communications Advisory Board, of which Fullintel Head of Insights Angela Dwyer is a member, regularly counsels Fierce Pharma stakeholders on key topics such as trust and transparency based on the latest findings, learnings, data, and case studies. 
Who Will Attend?
Benz says that while the event's speaker lineup is always compelling, the best part of the conference is the networking and unmistakable energy in the room from attendees. "They say in the general world there are seven degrees of separation, but in this conference it's three, because everybody seems to know each other or has worked with each other at one point."
And while the Pharma PR & Communications Summit's western iteration is primarily aimed at startup companies in the medical technology and biotech space, it also includes plenty of representatives from big pharma. 
A small sampling of the companies and organizations set to attend include:
How Does This Event Fit in the Calendar?
The west-coast event of course isn't the only Fierce Pharma event this year – indeed, its sister event, the east coast Pharma PR & Communications Summit, takes place July 18 to 19 in Jersey City. You can view the east coast event's agenda here.
Other Fierce Pharma events on this year's PR and communications conference schedule include the Fierce Biotech Summit (Oct. 16 to 18), which will focus on partnerships and collaborative projects in the pharma industry. "And that's one of my favorite events," Benz says, "because we bring together different therapeutic areas to really talk about innovation and the future of biotech."
The annual event also features the Fierce 15, a collection of 15 companies "being really fierce and innovative in this space," Benz says.
But what does that mean, exactly – to be "fierce" in pharmaceuticals?
"Everyone's probably going to have a slightly different answer to that," Benz says with a laugh. "But I would define it this way: Considering everything that's going on in the world, these companies are not afraid to back down. They're not afraid to push the envelope and really do what needs to be done – whether that means going into an entirely new therapeutic area, or doing cell and gene therapies and being the first of its kind, challenging the status quo, and saying, 'We're going to do this, and we're going to be bold.'"
Fullintel's Pharma-Specific Trust Metric
Part of Fullintel's research-based mission – for which the company was recently honored with an IPRRC research award on trust-driving attributes – is the development of metrics around consumer trust, recall, and impact to expand the Fullintel Media Impact Score. 
One element of that is the development of a pharma industry-specific trust metric to measure specific trust attributes germane to the pharma business. 
"There are a few companies doing similar things in the industry, and it's really exciting because it's addressing what a lot of people are facing," says Benz. "It's really important that people are taking the time to ask: What have we learned? What can we gain from this? And how do we move forward with these insights?"
The Pharma PR & Communications Summit West takes place April 3 to 4 in San Diego. You can view the event's agenda here.