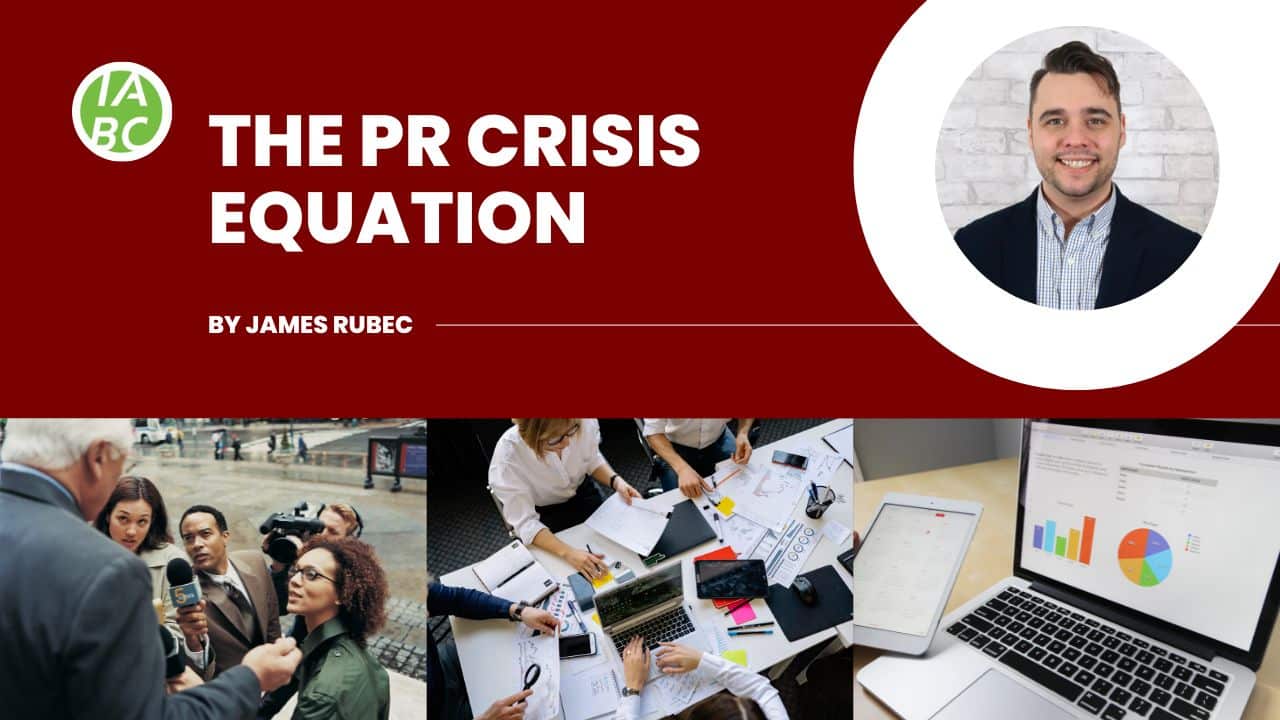 When I think about crises, I often think about the metaphor of the "straw that broke the camel's back". The straw can come from anywhere in your industry, not just your brand, and the camel's back is an X factor of a critical mass of people, appropriately animated and capable of causing brand challenges. 
Even black swan events – something you can't quite predict or directly prepare for, like a tsunami or executive misdeed of some sort – need a certain level of volume for the media or public to care.
A few years ago I attended a conference about black swan events. I spoke with communicators at airlines and energy companies about Volkswagen's emissions scandal at the time, along with other crises such as plane crashes and oil spills. Others spoke about cyber security and social movements like Occupy Wall Street. 
What struck me about all of these issues is that none of them were out of the blue, or even unpredictable in most cases. In most cases they boiled down to a loss of trust at a societal level combined with a chain of events that generated that specific crisis.
Here's a table that illustrates what I'm talking about:
Crises Spawned From A Loss of Trust
| Issue | Natural Behavior | Loss of Trust |
| --- | --- | --- |
| Plane Crash | Gravity exists, and human error, technical failure, and even weather can cause major disasters. | The public and media distrust airlines and regulators when issues happen too often, or when answers about causes aren't clear. |
| Oil Spill | Pipelines age and rust, and oil derricks or other energy infrastructure can explode, as petrochemicals are flammable. | When the public doesn't believe that the company in question is protecting people or the environment, or when issues occur too often at too high a profile. |
| Emissions Scandal | Car companies are profit seeking entities. | Regulations made business more expensive and poor governance often leads to widespread fraud. |
| Cyber Hack | Technology can protect data and money that's accessible online, but is vulnerable to exploitation. | Companies and industries writ large promised safety of data and money online, but evidence shows this is a promise and expectation that can't be met. |
| Occupy Wall Street | Young people were sold a vision of society that says if they work hard and compete, they'll succeed. | Economic inequality and unfairness spawned from 2009's Great Recession – largely caused by risky subprime mortgages being rolled up into tradable securities – created antipathy and distrust toward elite financial institutions, and the financial services sector in general. |
All these moments (except a plane crash on its own) are examples of trust being lost either internally at a company, or externally amongst the public. Someone somewhere has lied, hidden the truth, or out of being misinformed said or done something that inflamed an already-present issue. Accidents happen, yes, but that's not where brand damage is usually found.
When a pattern can be seen, it can be predicted. The biggest question for me is: Are brands listening, and how will they evaluate past issues and responses in terms of present-day actions?
Want to Learn More About Crisis Management?

Join Fullintel on Monday Feb. 6, for a webinar (and in person event for those in Ottawa, Ontario Canada) for IABC's event Plan, Listen, Act, Evaluate: Strategies for Crisis Communications.
Join a panel moderated by Kiki Cloutier, National Strategic Communications Lead at Earnscliffe Strategies featuring panelists: James Rubec (myself) head of product at Fullintel, Kim Blanchette, Senior Vice President, Reputation Risk & Public Affairs at Argyle and Doug Anderson, CAIP, National Opinion Research Co-Lead at Earnscliffe Strategies to dive deep into crisis management issues.
Breaking the Camel's Back
When brands fail to learn from the past, they're usually doomed to repeat their mistakes in the present – and consumers remember. And if they forget, the internet's existence ensures everything a company does lasts forever. 
Special-interest groups have the collaboration and networking tools to gather and share information at an instant. Heck, you can run protest movements from a Whatsapp group or fight a war using Telegram. These tools can be a force multiplier for those seeking to harm your brand. 
Trust is lost when companies lack integrity over time, and through micro-moments where messaging and more importantly, actions don't align with perceived values. When those issues play out over time, consumers pick up patterns in an industry, not just a brand. And when those patterns are highlighted by a crystallizing issue such as a plane crash, protest, or bad behavior, those groups become animated and begin to do brand damage.
Members of those groups are just waiting to jump on your next tweet, LinkedIn post, or press release to call you out – fairly or not.
Don't get caught falling into old patterns. 
FULL EVENT DETAILS:
Title: Plan, Listen, Act, Evaluate: Strategies for Crisis Communications
Join our expert speakers on February 6 to get the insight, advice, and resources you need to build your crisis communications toolbox.
Date: February 6, 2023, 5:30-6:30 (in-person doors @5) 
Location: Hybrid//In person @ Earnscliffe 46 Elgin Street, Suite 200 (20-25 people)
Online: https://www.eventbrite.ca/e/plan-listen-act-evaluate-strategies-for-crisis-communications-online-tickets-517944825917
In-Person: https://www.eventbrite.ca/e/plan-listen-act-evaluate-strategies-for-crisis-communications-tickets-517909510287