It's the evening before your organization's big event, and you're anxiously running a well-worn event checklist through your head one last time: Did I remember to set up credentials with the right media and influencers? Did the keynote speakers all submit their presentations? Will the A/V crew show up on time?
Did I set up event-related keywords in my media monitoring platform, in order to capture all the traditional and social media buzz surrounding the event?
While this last to-do item may not always be top of mind immediately before an important event, that doesn't mean it's any less important. Companies that don't do a good job of event monitoring and reporting often don't get a true picture of their event's overall impact – and, as a result, don't actually know their organization's return on investment from a PR and communications perspective.
We're not just talking about conferences or workshops, either. Events suitable for media monitoring run the gamut from three-day conferences, to two-hour earnings calls, to product launches or even game days and TV shows for professional sports teams or video production houses.
But monitoring and reporting on events – as opposed to regular media monitoring programs set up to track and measure ongoing brand mentions, indefinitely – comes with its own set of unique challenges. Events are usually fast-moving, don't always go according to plan, and can be difficult to track meaningfully if you're not well prepared. That's why we've compiled these top four ways to up the ante when tracking and measuring your next event.
1. Be prepared in advance:
Put plenty of thought into your keyword or hashtag monitoring search strings well in advance of your next event. Do you want to track all event mentions? Only specific hashtag mentions? It's important to determine your parameters ahead of time, so there's no second-guessing when it's go time.
When it comes to social media, in particular, it's always much better (and a lot less messy and expensive) to monitor in real time as opposed to going back and doing it after the fact. Monitoring Twitter, for example, days later can be a real pain both cost- and access-wise – especially if you're using Twitter's standard API, which only lets you search seven days worth of back data.
2. Monitor mentions by the minute, not just by the day:
Most social media monitoring software platforms only let you track daily mentions of a particular keyword or hashtag, but that's not very useful when drilling down into a one-day (or one-hour) event. To get a true picture of what's happening on the ground – and which elements of your event are producing the most buzz – you've got to track mentions down to the minute.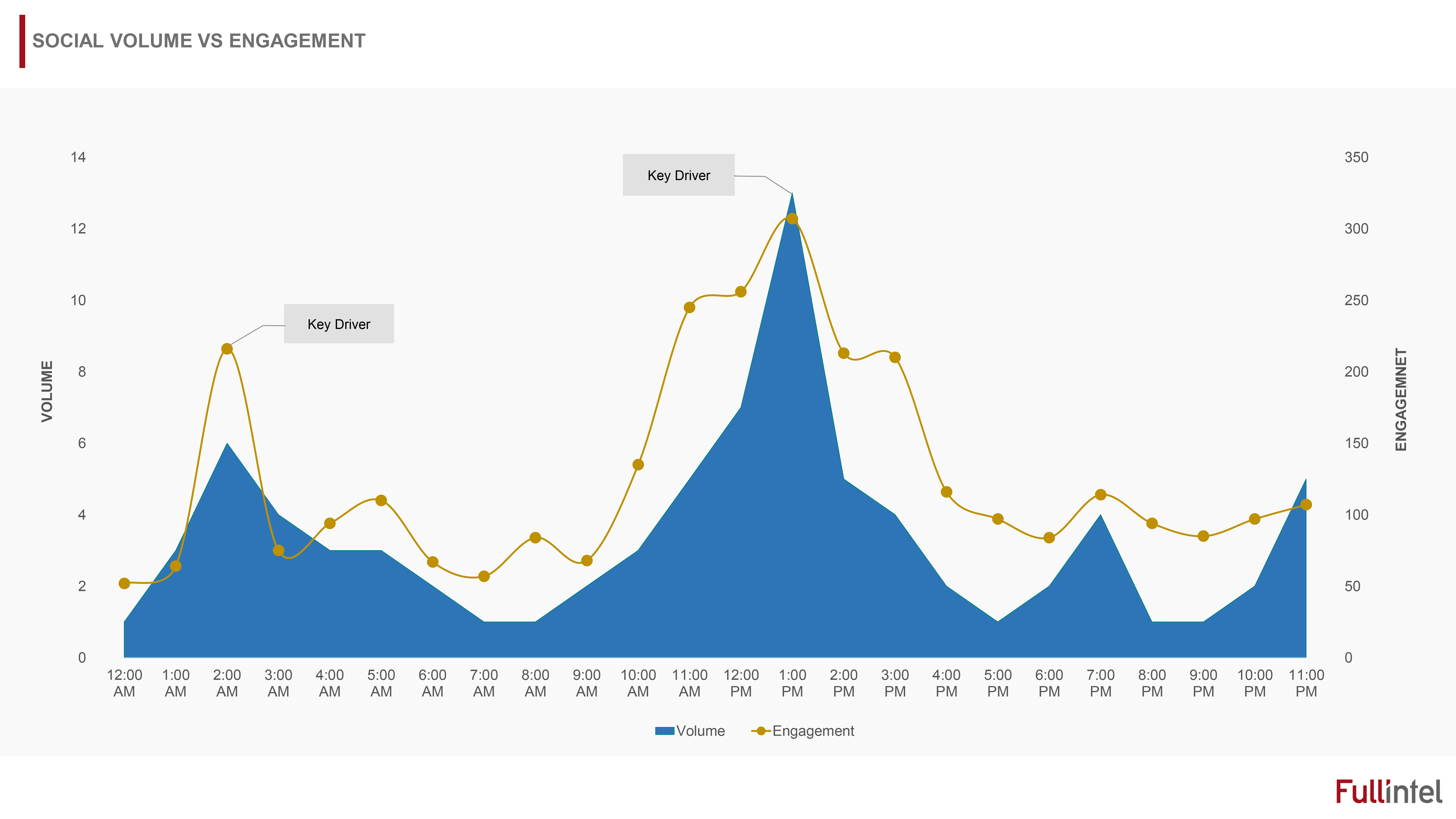 Doing so lets you extract better, more actionable insights from your event monitoring, including:
What part of your keynote speaker's speech elicited the most crowd reaction?
What times of day did you get the most buzz – and how does that correlate with events on the ground?
For production houses, which scene(s) of last night's premiere were the most talked about as they happened?
For sports teams, which plays or parts of the game spurred surges in real-time chatter?
These are just a few examples of the insights real-time event monitoring can uncover – wisdom that, quite frankly, is often lost when you only get a high-level activity total for one day, week or month. And the best part? You can then further break these minute-by-minute mentions down by sentiment, region, or other metadata to produce an even sharper view of what's being said.
3. Begin your monitoring early… and end late:
Speaking of monitoring by the day, it's simply not good enough to track mentions around your event solely on the days it's actually happening. To get as clear a picture as possible, along with getting a handle on how conversations are evolving over time, it's important to monitor and report on the buzz leading up to, and following, your event.
Just how far in advance you should begin your monitoring depends on a few things: Is it a regular event people already know about? Is it a first-time event requiring heavy promotion weeks or months in advance? How far in advance will you start your media and influencer outreach campaigns? These are all factors in determining when to "turn on the taps", so to speak. But in all cases, it's better to err on the side of starting too early than too late (even from a cost perspective, you're not going pay much – if anything – if you set it up too early and don't have any mentions to monitor).
4. Monitor (and outreach to) influencers while your event is ongoing:
Getting a postmortem-style analysis report once your event is wrapped up is good, but it's also important to see who's covering your event as it happens through regular news briefings. There are a number of reasons for this: Are they saying overly positive things? Then it's always good to reach out to see if you can provide anything further. Are they being negative? Then, too, reaching out can help clear up potential miscommunications before any further damage is done. This kind of proactive, real-time monitoring can also be beneficial during those occasions the journalist or influencer makes a factual error, allowing you (and them) to correct the record before it's too late.
Luckily, software and services exist that allow you to accomplish all these event monitoring best practices – and more. Fullintel's event monitoring provides multiple executive news briefings while your event is ongoing (delivered either daily or at the cadence of your choosing) along with a media analysis report delivered following the event highlighting key takeaways including which moments got the most buzz, and which journalists or influencers helped get your message out.
Sign up to receive a free sample event report, on any event of your choosing, from the expert media analysts at Fullintel.