CAMBRIDGE, Mass. – March 31, 2022 – Fullintel, a leading media monitoring and intelligence service, is proud to announce the launch of its new real-time media monitoring platform with predictive artificial intelligence capabilities: Fullintel Hub.
Fullintel Hub combines actionable news curated by AMEC-certified media analysts with a quality assured, automated news feed that delivers ultra-relevant, real-time results. 
Meanwhile, Fullintel Hub's PredictiveAI™ technology works tirelessly in the background to highlight which real-time stories have the potential to trend or go viral – helping PR teams get in front of breaking stories earlier.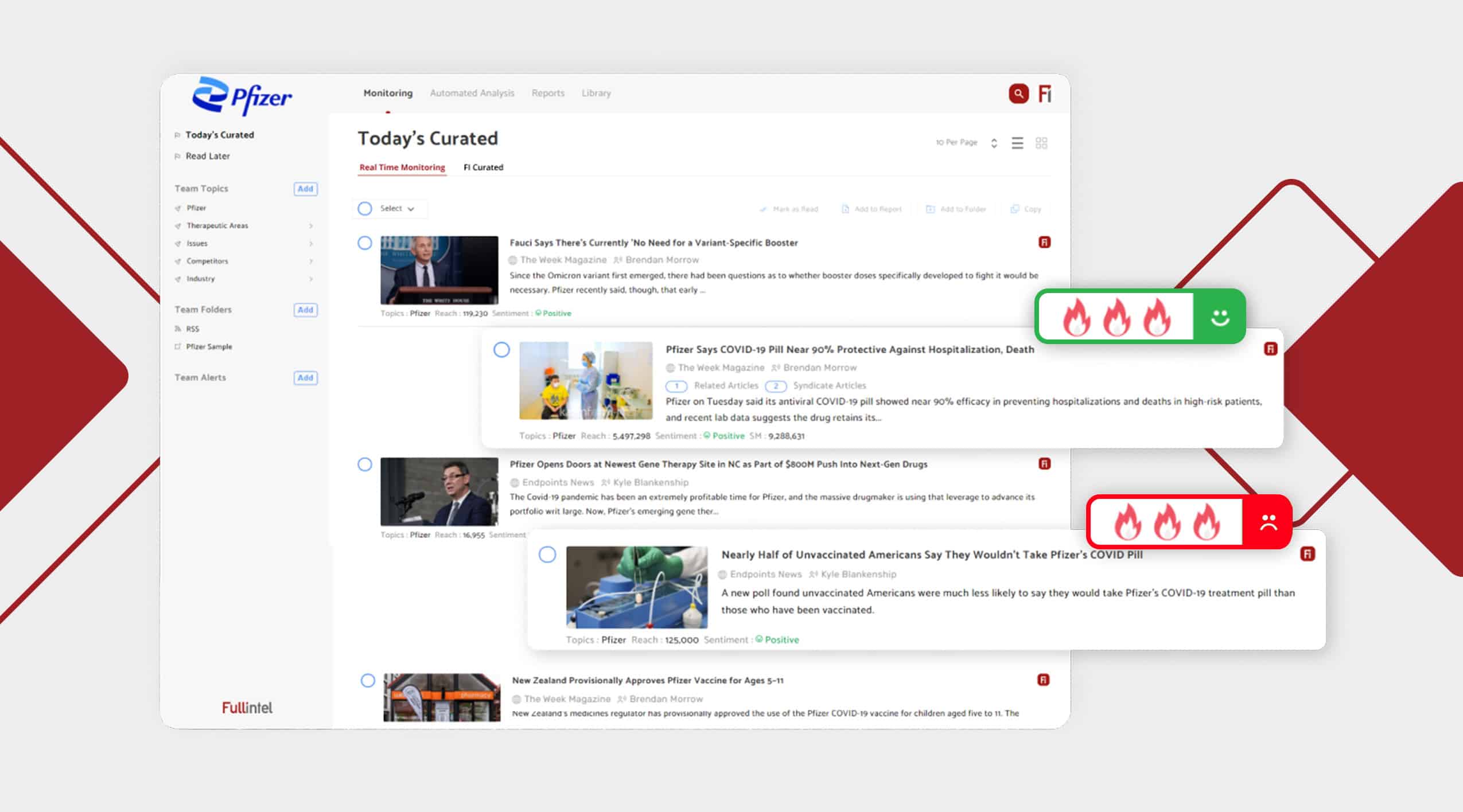 "We're extremely proud to launch a first-of-its-kind, real-time media monitoring platform that combines our award-winning human curation services with intelligent automation and AI," said Fullintel President Andrew Koeck. "Fullintel Hub is exactly that: It's a full-on media monitoring hub that includes a human-curated news feed, a quality-assured automated news feed, along with PredictiveAI™ capabilities to help PR teams make faster and smarter decisions."
Clients can use Fullintel Hub to easily build customized ad hoc reports and share articles instantly through social media or RSS. Clients can also ask their dedicated media analyst to customize Fullintel Hub with limitless topics, subtopics, and other custom information.
Fullintel's proprietary PredictiveAI™ human-in-the-loop machine learning technology is the first-ever AI solution that predicts which stories will trend or go viral. It combines 100-plus proprietary machine learning models with an issues ontology and first-of-its-kind global events database containing 40 years' worth of annotated data. 

About Fullintel
Fullintel combines best-in-class technology with expert content curation to deliver the most relevant, cost-optimized media monitoring, daily news briefs, and media analysis possible. Our analysts curate print, online, social media, broadcast, and influencer opinions in real time – compiled by technology, supplemented, and verified by humans. Where technology alone fails, your dedicated analyst has you covered. Fullintel has offices in Cambridge, Mass., Ottawa, Ont. and Nagercoil, India.
Media Contact:
Jim Donnelly
jdonnelly@fullintel.com
Twitter: https://twitter.com/fullintel
Facebook: https://www.facebook.com/fullintel/