As your team plans your PR and content strategies for the new year, reviewing traditional and social media data and metrics from last year is imperative to inform your decision-making for 2023. Doing an annual deep dive into your performance can drive better ideas and help you focus more on what worked – and less on what didn't.
This review doesn't need to be a long, drawn-out process, either, as long as you've got the right roadmap for success. And as luck would have it, we've drawn one up for you below.
Here are the top five ways PR teams – whether you use a media intelligence vendor or do in-house media monitoring and analysis – can use year-end media metrics to plan for an even better 2023.
1. Review your performance against last year's goals
Revisit the goals you set last year, preferably through an end-of-year report populated with accurate (and clean) quantitative data and qualitative observations. From there, you can perform the following steps:
Evaluate each of last year's goals systematically against last year's data. 

Did you meet them or miss them? 

Which goals did you meet, and which efforts faltered? Examine the reasons behind your performance according to the data and your observations throughout the year. 

Did events beyond your control contribute to the results?

Which initiatives within your control contributed to the results?

Create a spreadsheet listing your goals and indicating which ones were met (and which weren't), along with any important factors that could have affected the outcome. 
Remember progress beats perfection, as perfection is the enemy of the good. Think about the goals you set themselves, were they measurable to begin with, and if not plan how do you really begin to measure them.
It's also beneficial to compare last year's results to the year prior (and possibly even the years before that) to gauge year-over-year performance.
Nothing in this exercise should be a surprise, however, if you've checked in on your data a few times during the year. Setting up a monthly or quarterly reporting strategy along with your annual review is always advisable. An ongoing reporting strategy throughout the year also helps with data cleanliness since this reporting frequency ensures consistently clean data to feed those ongoing reports – as opposed to doing a rush job on a year's worth of data in late December or early January. Scouts honor, be prepared. 
Remember that numbers derived from media measurement activities aren't always absolute. We've written before that all audience metrics around reach are estimates – not exact representations – and that most media intelligence vendors have proprietary methodologies for measuring reach. 
This disparity in methodologies and the absence of data standardization across the industry can sometimes cause frustration, which is why it's important to focus on benchmarking and keeping a consistent methodology from year to year (especially around reach metrics).
2. Choose the right metrics (and understand their significance)
Use the most appropriate metrics to measure your success. These metrics must be understandable for stakeholders outside your team, especially executives. If the metrics you've used until now don't do that or provide ambiguous insights, you can either choose new ones or augment your current measurement cadre.
Which metrics to value most largely depends on your goals. Is your primary goal to cultivate a thought leadership following? Get more brand mentions? Earn more spokesperson quotes in tier-one media outlets? Or to move the needle, sentiment-wise, on an important industry topic that affects your business?
Whatever your goals, some of the metrics Fullintel recommends for many of our Fortune 500 clients include the following:
Reach and syndication data

: Including the overall circulation/reach generated across both traditional and social media, along with a breakdown of original articles vs. syndications.

Advanced sentiment

: An in-depth sentiment breakdown including cross-referencing key themes, outlets, and journalists/influencers by sentiment.

Share of voice (SOV) tracking

: SOV Key themes and topics, influencers/journalists, outlets, media types, 

Global and regional coverage:

It's always advisable to track your coverage

globally while also breaking out regional sentiment and share of voice for a deep dive into the specifics of each region.

Influencer and key opinion leader tracking:

The measurement of the impact of opinion pieces and social posts from

industry experts and key influencers

in your space.

Spokesperson quotes

: The frequency and quality of spokesperson quotes can indicate brand prominence within coverage.

Media Impact Score (MIS):

Fullintel's

proprietary Media Impact Score is based on AMEC best practices and measures both the quality and frequency of coverage by weighting metrics such as reach, sentiment, prominence, key messages, and other factors. It provides a quickly understandable score out of 100 for each media item and can be used to evaluate entire campaigns, topics, or time periods.
Of course, the right metrics can be limited without pairing them with the best methods of viewing the data generated from your media monitoring activities. Now is a good time to review your data visualizations and charts to ensure they're providing the insights they're supposed to – and add new ones, if necessary.
3. Combine data points and shore up your sources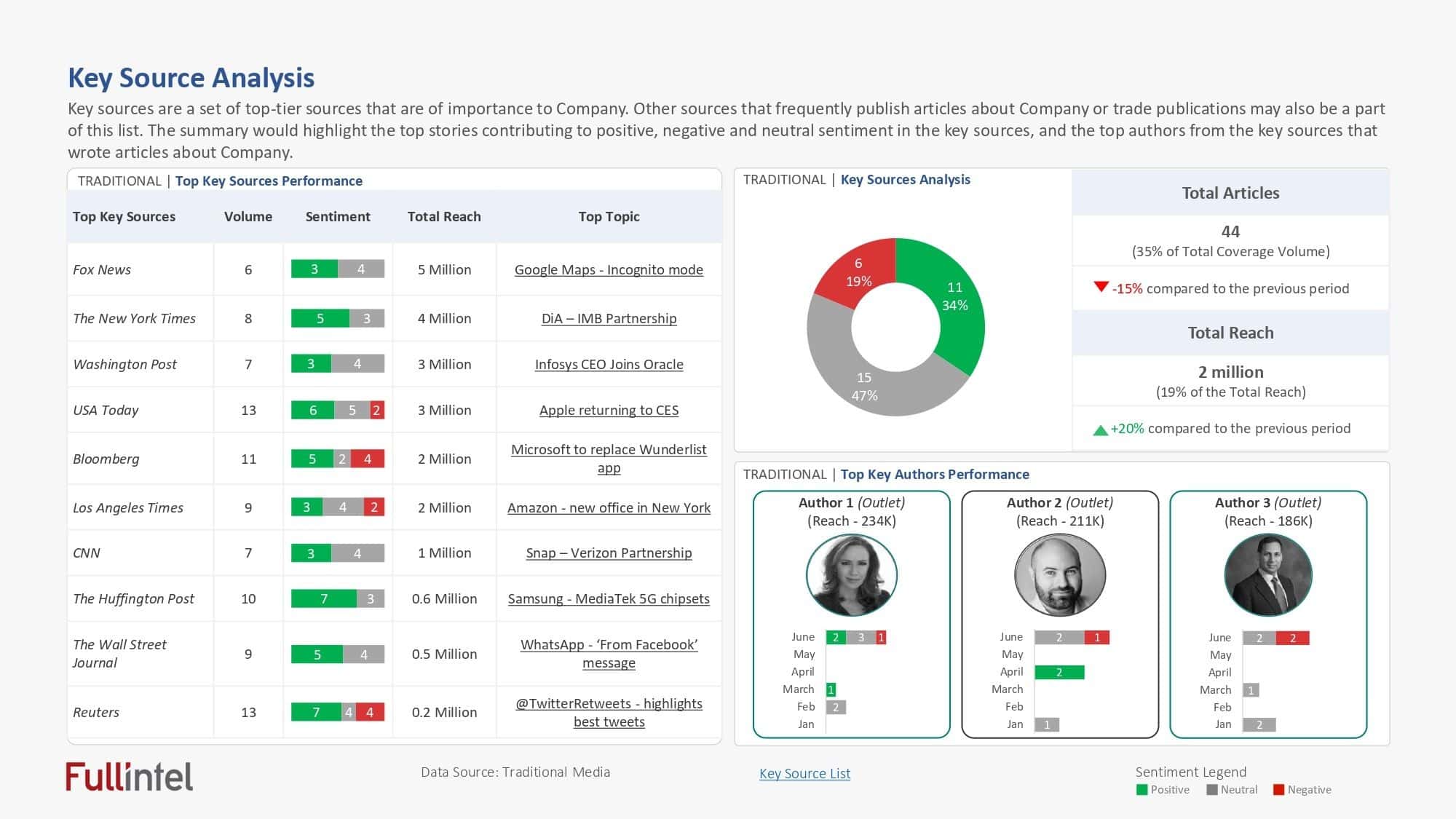 Sometimes PR teams handle social media, and other times it's the purview of the marketing group – but either way, combining your traditional and social media data will help uncover the most relevant insights and measure overall impact from a 360-degree angle.
Social and traditional media don't operate in a vacuum, after all – each media type affects the other in myriad ways. Sometimes traditional media stories start with a single tweet or YouTube video. Other times, traditional media coverage drives social media mentions. Marrying up these datasets (if you haven't already) is important to get the most well-rounded insights.
Additional source-related tweaks to consider at this time of year include:
Evaluating your key source list

to ensure the highest degree of relevance. Are your tier-one sources still relevant? Are there any new sources you need to add?

Evaluating your source types

, which can include online news, newspapers, blogs, newsletters, newswires, broadcasts, magazines, journals, and other online content, along with data from social platforms. You can add or remove media types based on how much value they provide to your overall analysis.

Evaluating earned media, paid media, and owned media

to determine if you're making the most of each type. Combining all three types of media can help drive publicity and brand awareness.
4. Examine the drivers of last year's results
After viewing your metrics covering the year, drill down into which events, campaigns, initiatives, or other news items or social posts spurred the most positive or negative coverage for your brand. 
You can use data visualizations to significant effect in this regard by using charts and graphs to identify noteworthy trends and spikes in coverage. Was that April jump in mentions driven by a campaign or something else? Does an increase in negative coverage later in the year correlate to certain industry trends? Did a blog post or whitepaper on your site help to drive coverage?
As mentioned above, most of this shouldn't be a surprise – especially if you've been keeping an eye on your coverage throughout the year. 
5. Establish new goals, strategies, and benchmarks
Now that you've given your media data the equivalent of an annual health checkup, it's time to take the lessons you've learned to formulate a new strategy and set new goals for the coming year. 
The most important thing to remember here is that while it's great to be ambitious, combining ambition with a healthy dose of realism is essential so you can actually meet your goals (and make your team look like stars in the eyes of the C-suite). 
By drilling down into the causes and effects of your peaks and valleys in coverage over the past year, you can adjust your strategy and tactics for the coming year (and avoid any mistakes you may have made previously, or double down on initiatives that drove the most value). 
Either way, however, you need to ensure – even if you haven't done this before – that media intelligence is not a one-time, set-and-forget activity for your team. 
While an annual deep dive into your team's performance is crucial for setting the most effective strategy for the year ahead, it helps to perform media measurement year-round, so you're not essentially starting from zero during each year-end period.
It also means far fewer surprises at year-end, should anything unusual crop up in your results from a few quarters ago.
For precisely this reason, many organizations track their media mentions on a monthly or quarterly basis. Tracking media performance monthly or quarterly also helps PR teams course correct (or jump on opportunities identified in data) sooner than if only measuring once per year.
Whether you're interested in one-time, annual, or ongoing monthly or quarterly reporting in conjunction with expert media monitoring and human curation, Fullintel's teams of seasoned media analysts can help make sense of all your media data and meet your annual goals. Get in touch with a Fullintel representative today to learn more.