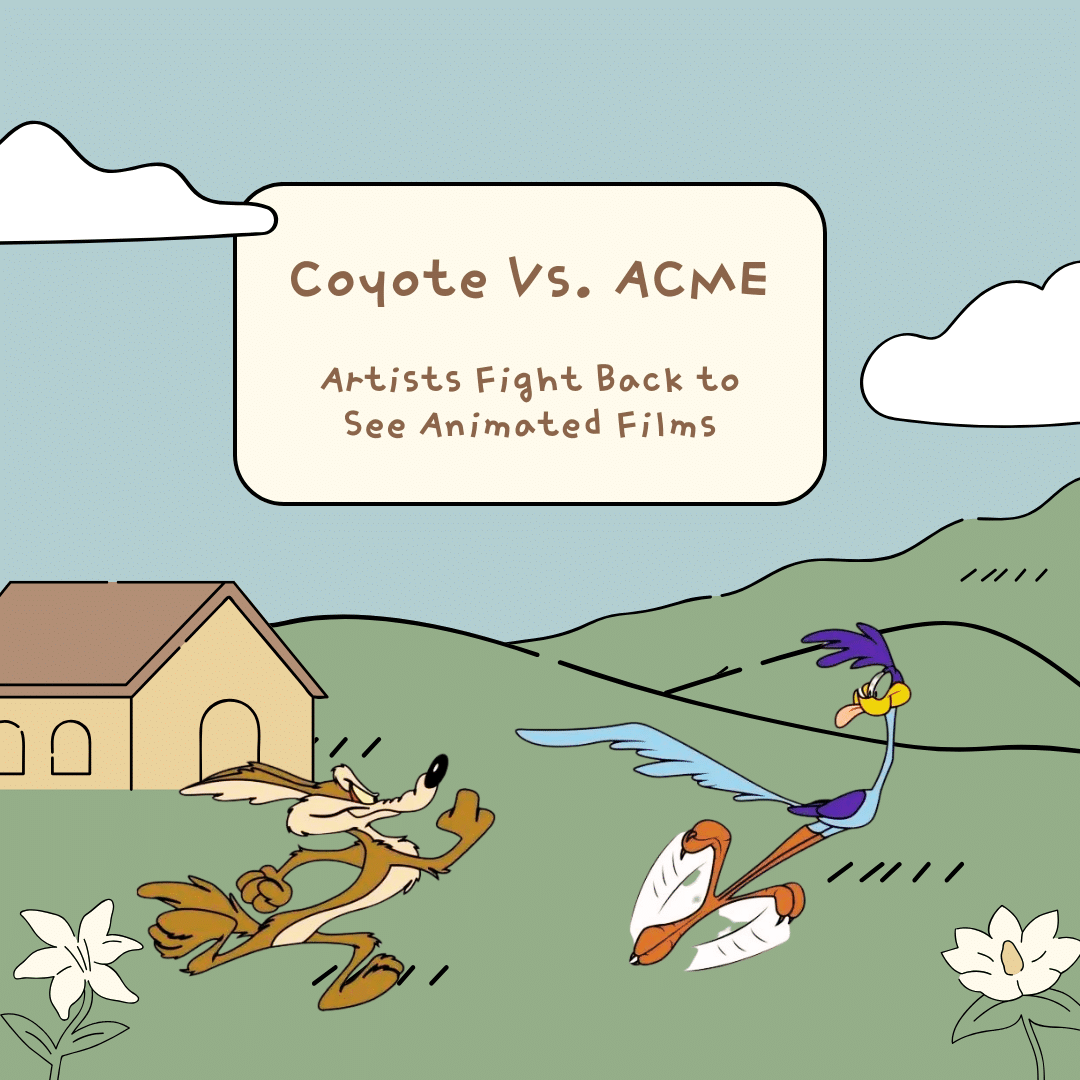 November is AMEC Measurement Month, and to highlight the importance of measurement, we're looking at a number of interesting and hopefully entertaining subjects. In this first edition, we evaluate how the online artist community fought for the release of Coyote Vs. ACME, a live-action and animated mash-up on the chopping block as a tax write-off.
In the movie industry art is an asset, but big brands like Warner Bros. Discovery and HBO Max canning that art is a reputational risk unto itself. 
Case in point: This past week, the former announced it would write off Coyote Vs. ACME, an animated film starring John Cena and featuring the beloved Looney Tunes cartoon characters Road Runner and Wile E. Coyote. 
This isn't the first time this has happened, either. In Aug. 2022 Warner Bros. Discovery wrote off the film Batgirl, which was already completed and ready to release. The film, according to those who had seen it, wasn't great. And marketing the $90 million film wouldn't have helped. The difference between the two films is that the reviews for Coyote Vs. ACME are glowing.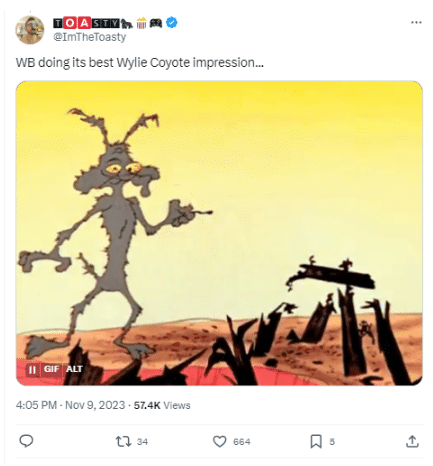 Over the weekend, the hashtags #SaveCoyotevsAcme, and #ReleaseCoyotevsACME trended on X (formerly known as Twitter), with artists and writers the largest share of professionals commenting on the issue. 
After more than 27,000 messages were sent at an estimated reach of more than 250 million on social media, Warner Bros. Discovery announced it would shop the film to another distributor. It was a major win for the film's creators and wider artistic community.
How much attention is needed to help change such a decision?
Coyote Vs. ACME cost an estimated $70 million to produce and wrapped filming in New Mexico in July 2022. Online advocacy from the film's director, its stars, and artists who worked on it certainly seems to have rattled Warner Bros. Discovery's cages.
WB shelved COYOTE VS ACME a year after it was completed. An incredible amount of love and labor goes into making a movie, and to have the studio throw that away for a tax write off is a gigantic slap in the face to the cast & crew.

Director Dave Green's statement below: https://t.co/d9E087g3fy pic.twitter.com/Bfr43lF2Lp

— Caroline (@carolinekwan) November 9, 2023

This is over a weekend before the sleepier Thanksgiving period at the tail end of the writers' and actors' strikes. Dig a little deeper, though, and we discover that it might not just be a question of how many people engaged on the subject – but who.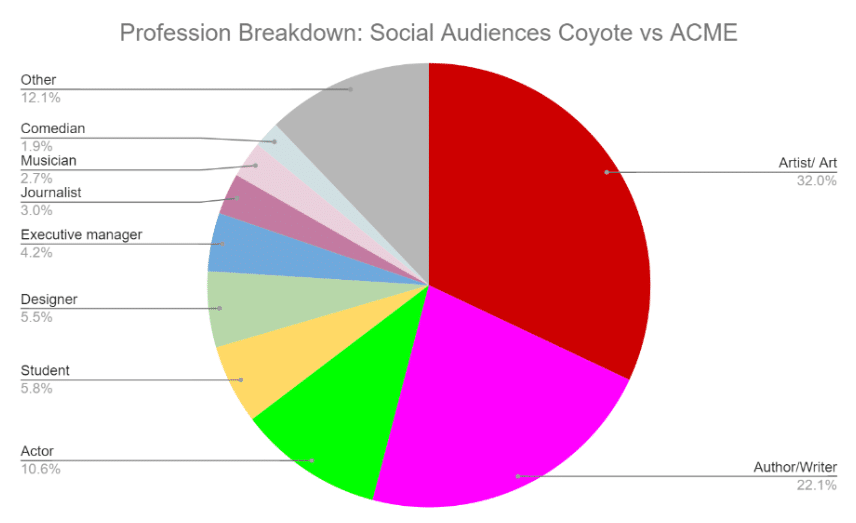 Reviewing the bios of those participating in the conversation, we found that of professions we could identify, about 65% work in the creative industries, with 32% being artists of one sort or another, 22% working as authors and writers,, and another 10% as actors.
IndieWire reported that writer and director Brian Duffield said that Warner Bros. was "anti-art". Just days after the SAG-AFTRA strike's tentative agreement was struck, it may be that Warner Bros. felt the heat from a well-organized community of creators.
Two lessons from the social advocacy around Coyote Vs. ACME
1. Motivated and engaged interest groups can push conversations quickly: Knowing how and when to activate these communities is difficult. But after successful negotiations with film studios, creators mobilized and changed the path forward for Warner Bros. Discovery. The lesson learned is when an industry is in transition, it's worth pushing the boundaries of change.
2. Don't kick a hornet's nest that's already awake and stinging you: John Oliver's hit comedy news show Last Week Tonight featured the Batgirl story, and it didn't go unnoticed. Audiences have long memories and the summer of 2022 is still in people's minds.

By announcing another tax write-off so soon after canning Batgirl, Warner Bros. Discovery animated an already-engaged (and fired up) interest group of filmmakers and artists – and then paid the price by publicly changing course. 
If you want to stay ahead of news and social content while better understanding the influencers and interest groups engaging in your industry, contact Fullintel's AMEC Award-winning media monitoring and analysis team.