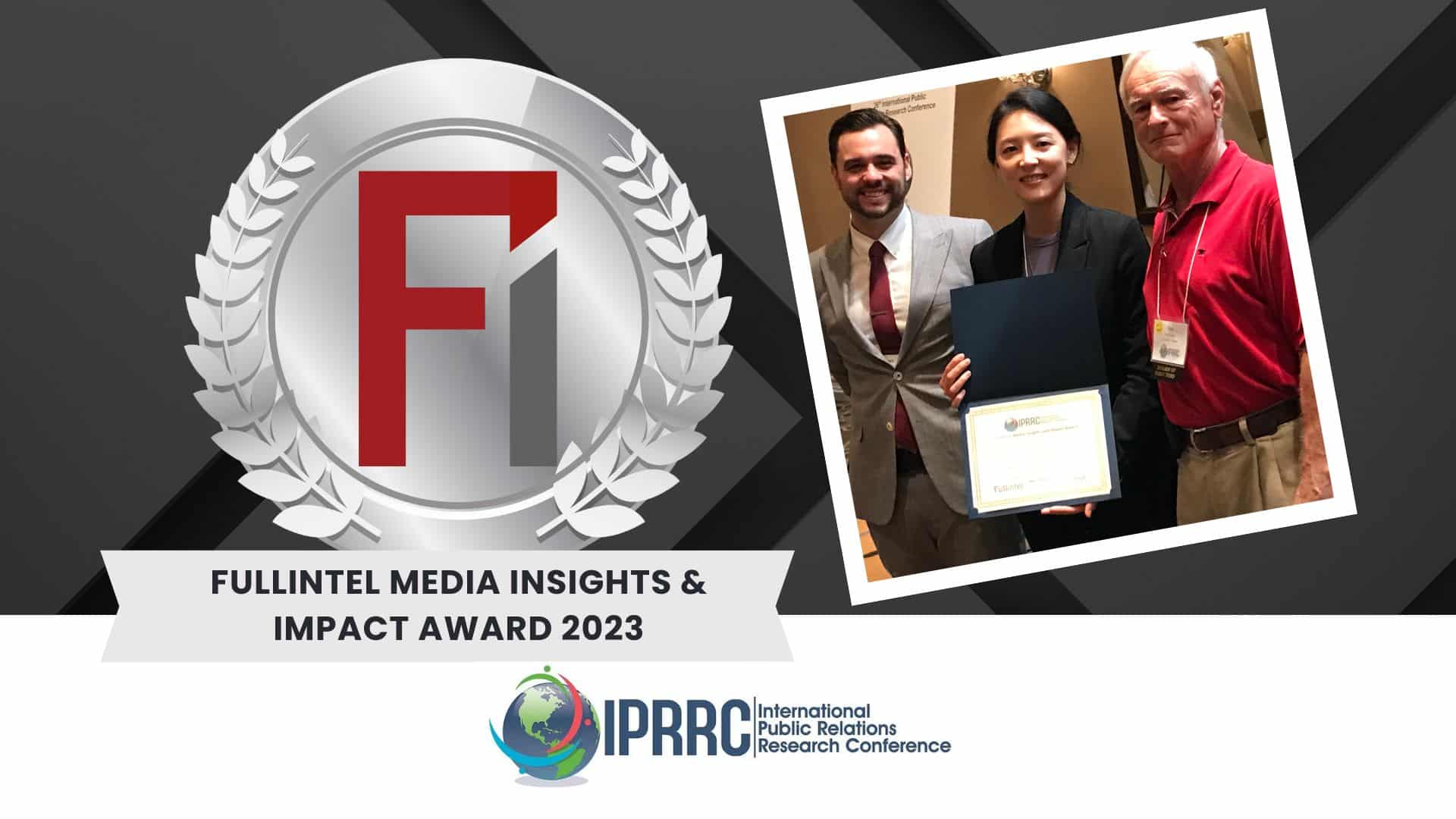 You may have noticed more brands stepping into the public arena to discuss their values, their efforts in improving the world or improving the work lives of their employees. 
This isn't just your imagination. As far back as 2021, even the Harvard Business Review noted that burgeoning research into corporate social responsibility (CSR) had identified that the vast majority of consumers believe that companies have a role in making the world a better place.
In March 2023, Fullintel awarded the Fullintel Media Insights and Impact Award at the International Public Relations Research Conference to Ejae Lee, a Ph.D. candidate in The Media School at Indiana University, for her paper Measuring Perceived Authenticity in Corporate Social Advocacy.
Lee's paper provides a scale to measure the perceived authenticity of a CSA effort or campaign. The theory, in practice, is that authenticity informs whether a CSR or corporate social advocacy (CSA) activity will benefit an organization. The less authentic something is to consumers, employees, or the general public, the more likely a brand will face criticism for its efforts.
According to Lee, brands, and communicators should review their brand's values more thoughtfully when considering CSA efforts. "It is critical to establish an organization's core values or redevelop them, if they already exist, as feasible and actionable so that an organization can plan and implement CSA campaigns," says Lee. 
The downsides of not doing so, she says, are stakeholders who don't understand or campaigns that don't align with the new positioning.
What's so critical about research in this space is that while CSR and CSA activities are valuable and needed, choosing the right one to focus communications toward is critical.
The Double-Edged Sword of CSR
A 2019 AFLAC survey of more than 1,500 Americans found that 77 percent of consumers, and 73 percent of investors, believe that efforts to improve the environment and society made a beneficial impact on net returns. 
Still, engaging in CSR or CSA activities isn't without risk! Firstly, every value that you espouse as a brand will likely have a competitive interest group that doesn't love the position you take. Even promoting diversity in employment or closing the wage gap between men and women are now polarizing issues on social media. 
People have attacked these CSR-related activities in the context of the recent collapse of Silicon Valley Bank (SVB), with some authors titling pieces "Go woke, go broke".  Of course, it's much more complicated than that. A great piece on The Conversation debunks this line of thinking, highlighting that if either SVB or Credit Suisse followed CSR best practices closer, they may have prevented their embarrassing failures.
Back to Ejae Lee's paper: It found that brands that take part in highly controversial CSA programs, like Starbucks or Nike, proactively plan around the potential negative financial impacts of those programs and are transparent about this to the SEC.

At this point, it isn't whether your company should do CSA or CSR governance work. It's which aspects your company should discuss most often, and put in bold. 
If it isn't true to your team, or your community, there may be backlash.
Don't let your CSA efforts cash reputational cheques that will bounce. Get ahead of drastic industry polarity with Fullintel's CSA/CSR measurement reports.