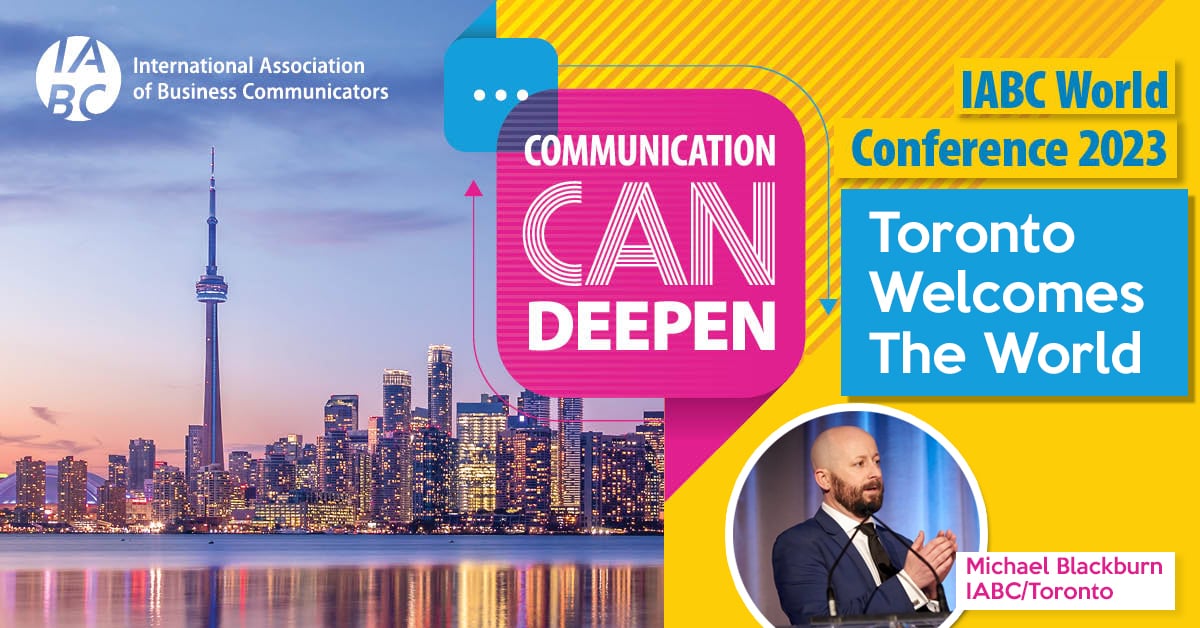 The International Association of Business Communicators (IABC) World Conference is one of the PR and communications community's most anticipated events of the year, and for the first time since the pandemic will be held in Canada.
IABC/Toronto, the world's largest IABC chapter, will host this year's event from June 4 to 7 – one that local chapter President Micheal Blackburn says will be noticeably different from past World Conferences.
"Coming out of the pandemic, we wanted to remain relevant to a creative community that has been thrust into change – whether that's digitization, waves of political and social change, AI, misinformation, new tools, or the metaverse," he explains. "Our jobs have vastly changed."
The conference's response to the changing communications landscape includes new session formats, a heavy focus on peer-to-peer interaction, and content curated for each stage of a communication's professionals' career to align with IABC's defined Career Paths. 
That includes a full slate of pre-conference events and a packed schedule of conference events including interactive workshops, small group conversations, panel discussions, expert debates, and spotlight sessions fueled by a heady speaker lineup.
But Blackburn says that maybe the most exciting part of this year's event is the networking opportunities it will provide. Networking initiatives this year include yoga in the park down by Lake Ontario, a city tour featuring the University of Toronto and the Royal Ontario Museum, a photography tour, and a dine-around event featuring the city's diverse and tantalizing cuisine. 
"They will sell out," Blackburn says about the dine-around events. "Personally, it's one of my favorite parts of World Conference. But overall there is going to be just an amazing feeling in the air of everybody connecting and learning and sharing."
Blackburn says the event's theme – "Communications Can Deepen" – is also much more than a simple tagline.  "Communications can deepen relationships, it can deepen impact, curiosity, and, and so much more," he explains. "It can connect communities, and it can divide communities if it gets in the wrong hands. And we're really exploring how you can leverage the power of communication to drive change, to inspire action, and to connect people around the world." 
Indeed, the World Conference – which takes place at the Sheraton Centre Toronto in Queen West, one of the city's most interesting and eclectic neighborhoods – is a unique opportunity to connect with communicators from various parts of the world.
"It truly is the international event of the year," says Blackburn. "I myself have been to about four or five of them in the past, and after my first I was hooked."