For most PR teams, daily executive news briefs to stakeholders are one of their most important deliverables. Also called "daily briefs" or "executive news briefs," they're typically distributed in the morning via email and are composed of the most relevant news items from the past 24 hours.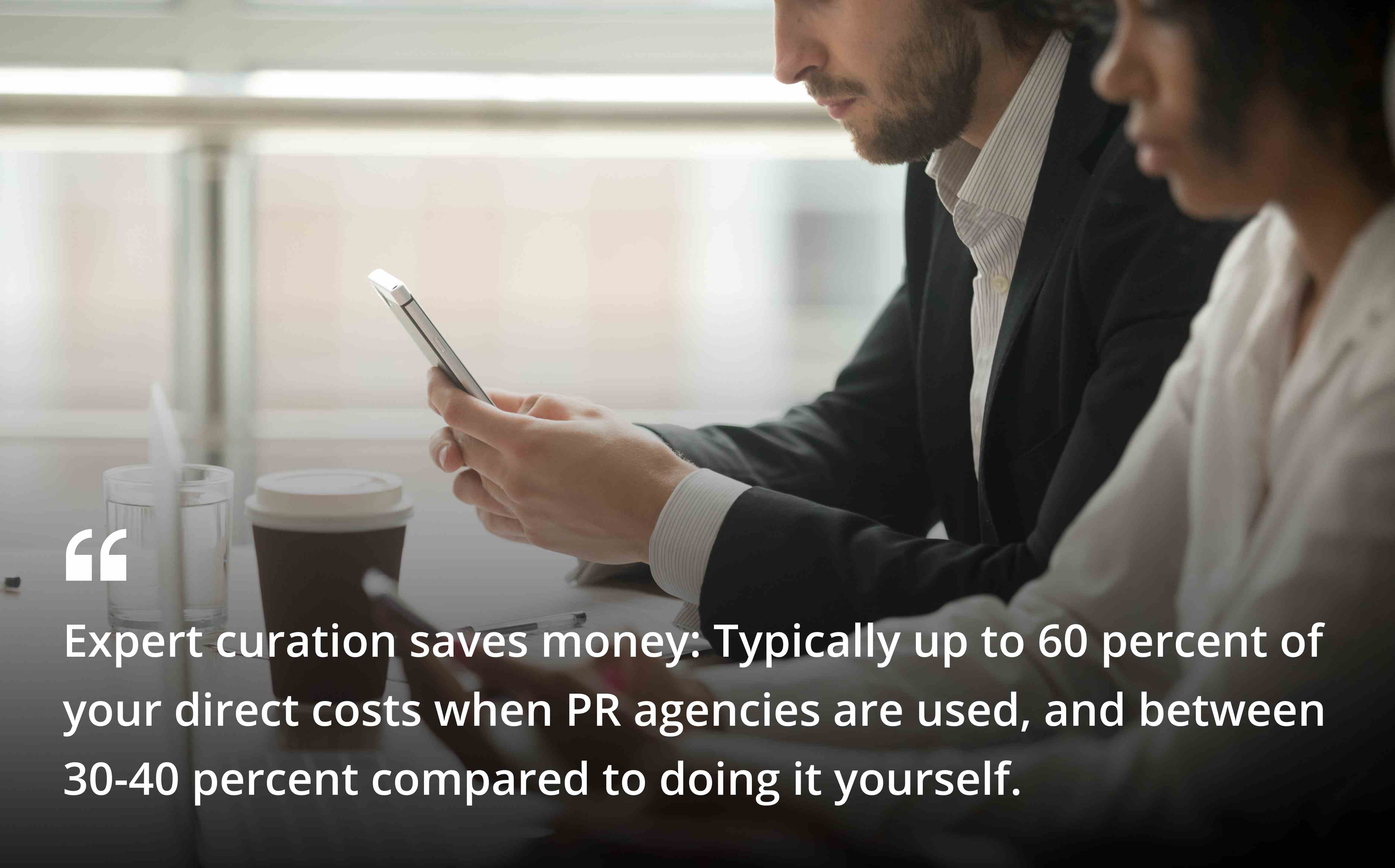 No matter how they're produced, they're a vital part of PR and communications for most medium- and large-sized organizations. They help keep executives and comms team members informed on actionable news about their brands, products, competitors, and industry issues across traditional and social media. They should include some or all of the following:
Traditional and social media content

News organized by client-chosen categories (product mentions, corporate mentions, CSR mentions, industry news, competitor news, etc.)

Social media and reach data 

Graphic-rich layout easily consumed on mobile devices

Easy sharing with stakeholders 

Your organization's branding

Easy-to-consume article summaries
Executive news briefs are typically prepared in three ways: Either in-house using a SaaS tool, through a PR agency, or via an expert curation and media monitoring service. The costs to produce each of the above, however, differ markedly. 
Consider the following costs:
In-house briefings with
SaaS tool
In-house briefings with
PR agency

$56,000/year

$153,960/year
An expert curation service, meanwhile, returns valuable time to your team by managing executive brief production and quality assurance. Expert curation also saves money: Typically up to 60 percent of your direct costs when PR agencies are used, and between 30-40 percent compared to doing it yourself.
We take a deep dive into these numbers in Fullintel's latest white paper. But first, we need to quickly look at how most briefs are curated – and why doing it yourself can cause all sorts of pain.
The Three Types of News Briefs
1. Third-party, automated news briefs (software as a service only)
Some providers offer automated news briefs with content gathered each morning from a news aggregation feed, collected by automated harvesting scripts and pre-set search strings using Boolean logic. News briefs are automatically populated with that morning's news based on search string results only. While this method can be relatively inexpensive, it's known for being littered with mistakes, including irrelevant content or missed content from niche sources, paywalled sources, or sources that don't allow aggregation.
This means automated news briefs with no human oversight usually lead to a lot of cleanup work for the organization receiving them – especially if that organization has a large media footprint. After all: The larger your media footprint, the more cleanup work you'll likely need to do when dealing with irrelevant hits. That means on top of paying a provider to assemble news briefs, staff must then make edits and updates for relevancy – usually very early in the morning.
There are other problems that come with a SaaS-only approach:
SaaS tools are becoming more limited as premium sources opt out.

News aggregators and feeds can be great, but become a little less great every time an important publication opts out by telling the aggregator to stop scraping their content (or outright blocking them).

SaaS tools are getting slower.

Anyone who regularly uses a news aggregation platform has likely noticed that results can sometimes lag for various reasons.

SaaS tools have always been somewhat unreliable without human intervention

. Boolean logic is a powerful thing and automated monitoring can seem like a lifesaver – until you find hundreds of false positives within your dataset. This can happen for any number of reasons.

SaaS tools often have hard results limits…

and going over these limits can shred budgets. Stories of companies being charged tens of thousands of dollars in extra fees are commonplace. 
2. In-house news briefs (supplemented by SaaS or PR agency)
News briefs created in-house can be great because you control the process – the media monitoring, the curation, the quality control and the distribution. The downside? You and your team are responsible for every aspect of an incredibly tedious, time consuming and, at times, thankless process (more on this later).
3. Third-party, expertly curated news briefs
Expertly-curated news briefs are produced by professional media analysts, typically at 5 or 6 a.m. to meet a 7 or 8 a.m. delivery deadline. Although these briefs are curated by media experts, they also use automated tools to initially harvest or sort content before analysts fill in the gaps and run quality checks. 
The best providers use a dedicated analyst who becomes an expert in your business and gets to know what's important to your company, including industry language, product lingo and personnel mentioned in news coverage. Expert curated services also apply manual approaches for harvesting premium content not offered in aggregators or hidden behind paywalls. 
In-house Curation: The Four Types of Pain 
Curating your own news briefs in-house is not an impossible task, by any means. But a deeper analysis reveals just how much this approach can cost, both in pain inflicted on your team and financial costs that can quickly shrivel your budget. 
In-house news brief curation brings four main types of pain to communications teams:
(Super) early mornings

.

Daily executive news briefings typically need to be delivered before 9 a.m., which means whoever is assembling the brief likely needs to start work at around 5 a.m. to make that deadline. Important news coverage can't be missed, even if it's behind a paywall or doesn't show up in your monitoring software.

Scheduling and finding qualified backups

.

News briefs for company executives and other stakeholders can't wait because someone is sick or on vacation. Well-trained backup staff for holidays and sick days must be available at a moment's notice. 

Employee turnover

.

Because daily executive news briefings require such an early start, the task usually falls to lower-level employees – many of whom, like most of us, have little desire to get out of bed every day at 4 a.m. to produce a news brief. This can lead to job dissatisfaction, burnout, and, ultimately, high employee turnover.   

Lack of focus

.

Producing media monitoring news briefs in-house often causes PR teams to lose focus, and force teams to spend more time working on and worrying about news briefs and less time fulfilling core mandates. 
Some companies turn to PR agencies to try to alleviate these pain points. Unfortunately, because media monitoring and news brief creation are far down the list of most agencies' core competencies, they inevitably run into the same problems. 
Expertly Curated Daily Briefs: 30-60% Less Expensive
An expert curation service such as Fullintel may seem more expensive than doing it yourself. But as our detailed analysis in our latest white paper shows, the former can actually save organizations money – and provide better results – while eliminating all that pain we spoke of earlier. And that's with monthly competitive analysis reports (and a near real-time SaaS dashboard) included in the overall cost.
As mentioned earlier, an expert curation service typically saves organizations between 30-60 percent of the direct costs of producing executive news briefs. That's not even counting the miscellaneous costs and indirect costs in the form of pain and distractions to your team when they're forced to correct mistakes, or hunt down irrelevant or missed content.
An expert curation service provides the best of both worlds: A near real-time SaaS dashboard, but without the full automation that leads to inaccurate results and missed content from a SaaS-only approach. All that pain we mentioned earlier becomes a thing of the past. Clients can also contact their dedicated media analyst anytime – for ad-hoc services, to tweak search strings, or for other requests – without totally sidetracking their team.
Expert curation services also guard against high employee turnover or inexperienced media analysts prone to making rookie mistakes. They keep their analysts on the same file from Day 1, so they become experts in your organization's goals, structure, competitors, business parlance, and more. 
Fullintel: The Expert Curators 
Fullintel does all the above and more, which is why our executive news briefs are the most reliable in the industry and are prepared for Johnson & Johnson, Royal Caribbean Cruises, and other large organizations. Your dedicated Fullintel media analyst works diligently each morning to produce a graphic, richly-formatted email media report including images, media coverage highlights, summaries, sharing options, and other media intelligence information. Articles are hand-picked for relevancy by a dedicated analyst trained in the nuances of your business and industry vertical.
Fullintel's most recent white paper provides an even more detailed look at the cost (both human and financial) of producing briefs in-house or through a PR agency, compared to an expert curation service. Download it today to start learning how you can save money and improve productivity while producing industry-leading executive news briefs.