CAMBRIDGE, Mass. – Nov 20, 2023 –

Fullintel
, a global media monitoring and intelligence service that
specializes in human curation, research-based analysis, and AI-driven predictive intelligence,
is pleased to announce it has won five 2023 AMEC Award recognitions.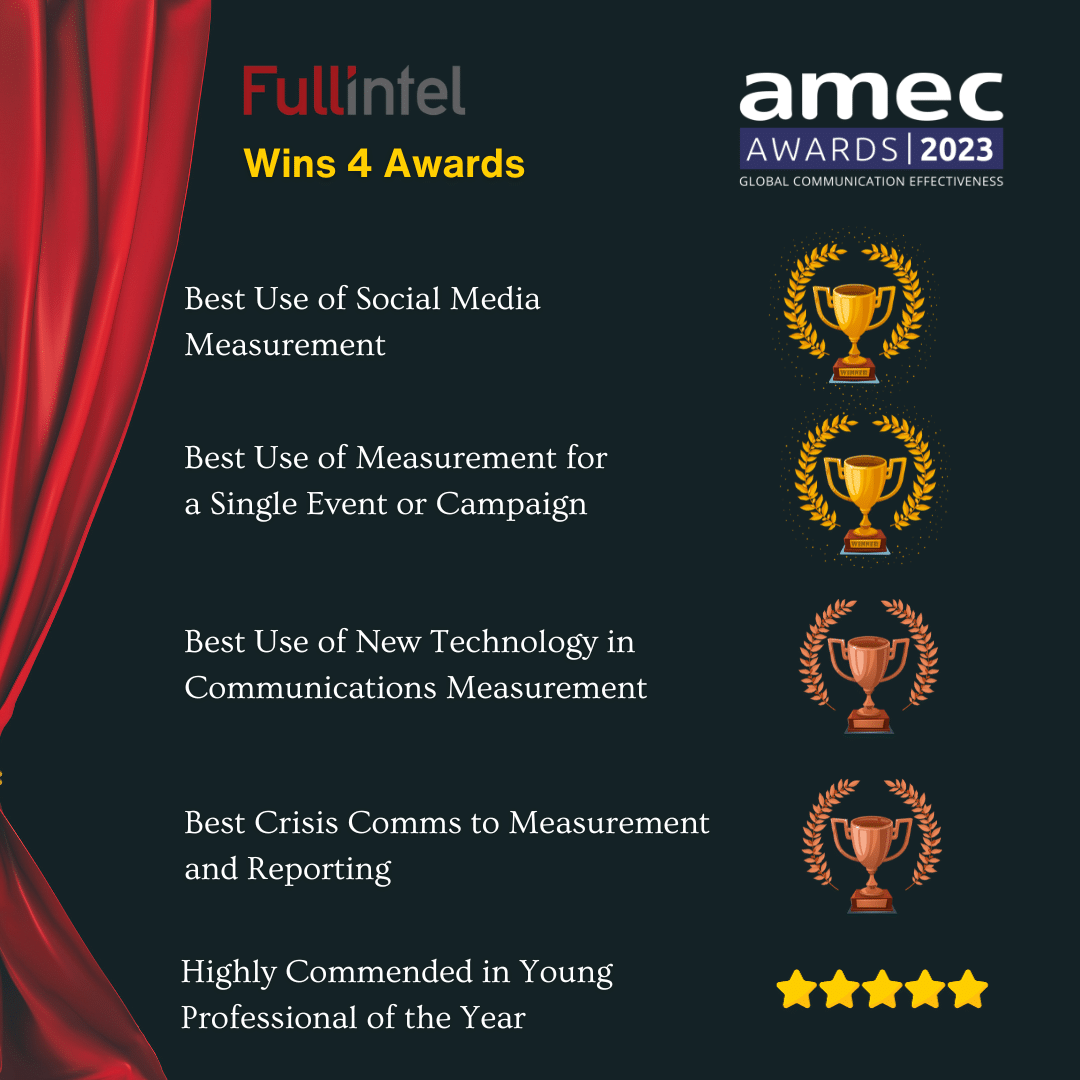 Gold in Best Use of Social Media Measurement:

For keeping a U.S. postsecondary institution secure via real-time social media monitoring and threat assessment

Gold in Best Use of Measurement for a Single Event or Campaign

: For helping a major entertainment brand understand audience reaction to a major motion picture release with human curation and deep metrics

Bronze in Best Use of New Technology in Communications Measurement

: For driving success for a medical technology firm through contextual tagging

Bronze in Best Crisis Comms Measurement and Reporting

: For leveraging advanced metrics to improve the crisis response of a leading healthcare organization

Highly Commended in Young Professional of the Year

: Eswari Vasudevan
"Every year the AMEC Awards prove the PR and communications industry's richness in terms of innovation and measurement excellence," said Fullintel President Andrew Koeck. "Congratulations to our incredible team, clients, and partners for such a tremendous achievement again this year. It's always a thrill for us to receive recognition from the gold standard of PR industry associations – AMEC."
Fullintel and its leadership team have received several recognitions in 2023 including The Arthur B. Page Benchmarking Award from the International Public Relations Research Conference (IPRRC), a PR News People of the Year recognition, and a PR News Top Women Award.  
The 21st annual AMEC Awards is a global awards program for communications measurement held by the International Association for the Measurement and Evaluation of Communication (AMEC). The program highlights exceptional work while highlighting the vital importance of measurement, research, and analytics.
Fullintel won one AMEC Award in 2020, four in 2021, and four in 2022. Please visit AMEC's website for a full list of this year's winners.
About Fullintel
Fullintel combines best-in-class technology with expert content curation to deliver the most relevant, cost-optimized media monitoring, daily news briefs, and media analysis possible. Our analysts curate print, online, social media, broadcast, and influencer opinions in real-time – compiled by technology, supplemented and verified by humans. Where technology alone fails, your dedicated analyst has you covered. Fullintel has offices in Cambridge, USA, Ottawa, Canada, and Nagercoil, India.
Media Contact:
Angus Nguyen
Twitter: https://twitter.com/fullintel
Facebook: https://www.facebook.com/fullintel/